Description:
Multilane stickpack powder packing machine Vertical Packaging Machine Sachet Packaging Machine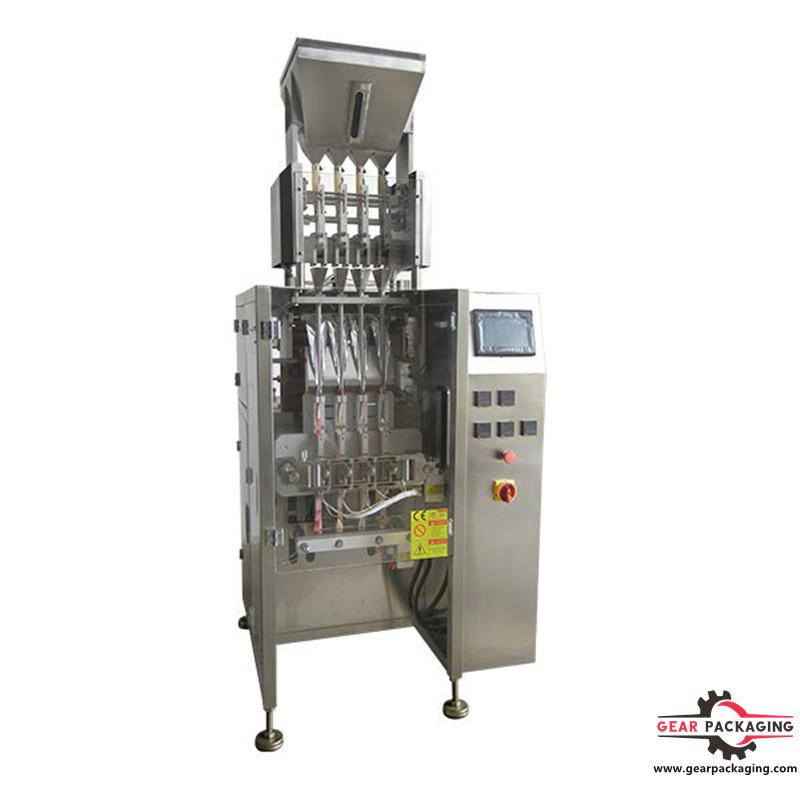 Application
---
This is a multilanes stick pack sachet packing machine, applicable for packing powder materials such as milk powder, juice powder, coffee powder, chocolate powder, grain powder, green tea powder, medicinal powder, healthy powder etc in the industries of phamacy, food and agricultural chemicals.
Features
---
1. The machine can automatically complete multi-lane products measuring, feeding, filling and bag forming, date code printing, bag sealing and cutting. And hole punching as option.
2. Motor driven heat seal film pulling system.
3. High sensitive fiber optic photo sensor can automatically trace color mark accurately.
4. PLC control system combined with touch screen, can easily set and change the packing parameters. Daily production output and self-diagnostic machine error can be viewed directly from the screen.
5. PID temperature controller monitors heat sealing temperature within +/- 1º C
Technical specifications
---
Filling product
Powder
Filling volume
1-40ml
Lane
5 lanes
Max.packing width
320mm
Width of bag
15-40mm
Bag length range
35-200
Packing material core diameter
Φ70—Φ76mm
Total power (Kw)
8kW
Filling accuracy
±5%
Power supply
380V 50Hz
Compressed air consumption
0.25m3/h
applicable film
CPP/PE/OPP,CPP/PT,PE/KOP,CPP,PET/AL/PE,PET/PE,NY/AL/PE,NY/PE
Max.width of packing material

(roll film)

380mm
Max.outer diameter of packing material(roll film)
Φ300mm
Max.cutting frequency
Max.35bags/min/lane X 5lanes
Max.capacity
Max.140bags/min
dimension(L*W*Hmm)
1.1mX1.2mX2.2m
Weight
1350kg

Usage
---
This machine is mainly used to pack powder products: such as milk powder, milk tea powder, coffee powder, spices, curry powder, protein powder, condiment, herbal powder, chemical and medical powder products.
1. This machine can automatically complete following work: auger filler measuring--coding (optional)--bag making--filling--sealing--counting.
2. Computer/PLC control system, photoelectric tracking, high reliability and intellectualized degree.
3. Equipped with fault display system, easy to operate and maintenance.
4. Make punching blade (round/ euro hole) and linked bags device after customer's request.
5. Machine body and all food touching part are made by stainless steel.