Description:
Vertical Packaging Machine V.F.F.S. Bagger Complete Systems nuts vertical packing machine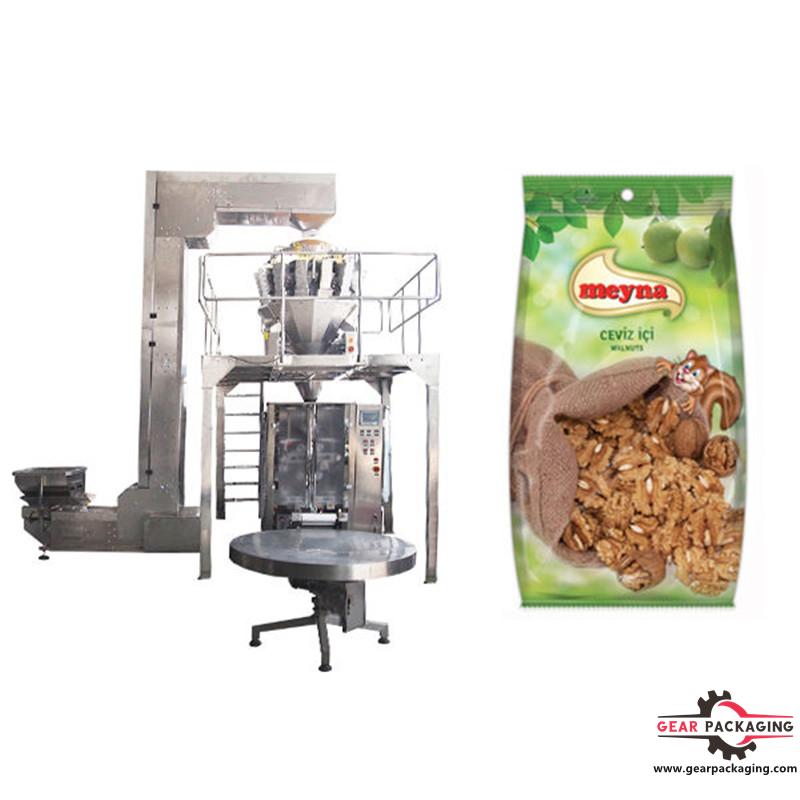 Applications
---
All kinds of grain material, sheet material, strip material and abnormity material which such as candy, melon seeds, chips, peanut, nutlet, preserved fruit, jelly, biscuit, confect, camphorball, currant, almond, chocolate, filbert, corn, Potato Crisps, pet foodstuff, dilatant foodstuff, hardware and plastic can be weighed by the ration.
Features
---
1.Efficient: Bag - making, filling, sealing, cutting, heating, date / lot number achieved in one time;
2. Intelligent: Packing speed and bag length can be set through the screen without part changes;
3. Profession: Independent temperature controller with heat balance enables different packing materials;
4. Characteristic: Automatic stop function, with safe operation and saving the film;
5. Convenient: Low loss, labor saving, easy for operation and maintenance.
Technical Specifications
---
Model
GP-420A
GP-520A
GP-720A
Film Width
Max.420MM
Max.520MM
Max.720MM
Bag Length
80-300MM
80-350MM
100-500MM
Bag Width
60-200MM
100-250MM
180-350MM
Film Roll Diameter
Max.320MM
Max.320MM
Max.320MM
Film Thickness
0.04-0.12MM
0.04-0.12MM
0.04-0.12MM
Packing Speed
5-60Bag/Min
5-60Bag/Min
5-55Bag/Min
Power
220V 50/60HZ 2KW
220V 50/60HZ 3KW
220V 50/60HZ 3KW
Machine Size(MM)
(L)1217* (W)1015*(H)1343
(L)1488* (W)1080*(H)1490
(L)1780* (W)1350*(H)2050
Machine Weight
About 650KG
About 680KG
About 750KG
Option Device
Two synchronous belt device, air filling device, angle fold device, automatic rectifying device, hole-punching device, link bag device.
10 Head Multihead Combination Scale
---
Main Features:
1,Original program can be restored.
2,Easy cleaning and maintenance with clean function, all hoppers can stay open.
3,Piece counting function.
4,IP65 certificate.
5,Unqualified weight reject.
6,Step motor angle can be set according to different product.
7,99 program can be preset.
8,Stagger dump prevents products blockage.