Packaging industry predictions: 6 top trends to watch in 2019

Danielle Ohl October 29, 2018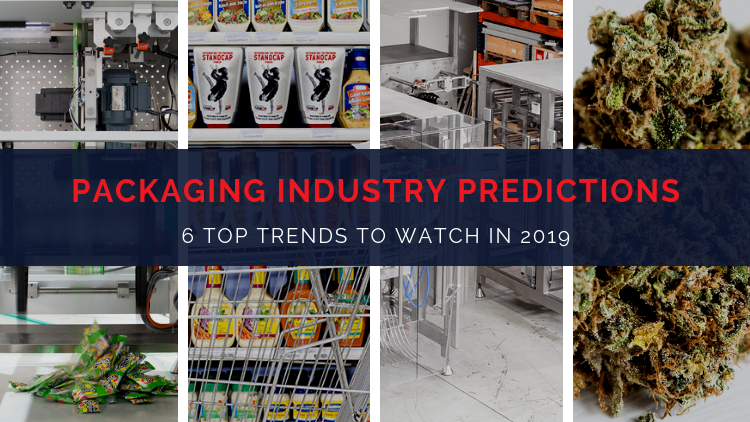 It's that time of year once again!
The packaging automation experts at Gearpackaging have put their heads together to make some predictions about industry trends. The future of cannabis packaging, the rise of 'equipment on demand', and packaging designed for social sharing are just a few of the trends we expect to see more of in 2019. Here are 6 top trends to watch:
1. A share-worthy packaging experience
Consumers today aren't just buying a product, they are buying an experience, which they often share with their online followers. In addition, professional online influencers will feature products on their blogs and social media feeds. Top CPG companies are seeing the value in these grassroots marketing channels and are creating packaging with social sharing in mind.
According to design company JAM AND CO, packaging is increasingly designed with attention to how it will be presented onscreen. Whether it be videos of 'unboxings' or placement of products in influencer campaigns, it's not enough for the product to be amazing, the packaging has to rock as well.
Special attention must be paid to how the package opens, how the product is dispensed, and how it looks upon resealing. Engaging and pleasing all five senses is paramount.
2. The future of cannabis packaging
With many states relaxing their laws and Canada legalizing nationwide, the medicinal and recreational cannabis market has seen exponential growth. According to a REPORT FROM PMMI, the industry topped $7.3 billion in 2016, an increase of over 35% from 2015. Industry experts see this pace of growth continuing over the next five years, with estimates of $24.5 billion by 2020.
Issues relating to cannabis packaging are similar to the pharmaceutical industry. For instance, packaging must be child-resistant, but also easy to open for the ill and elderly. Multi-use packages should be easy to reseal, but they must not run the risk of being opened and consumed by unintended parties. Opacity and tamper-evident packaging are also usually on the list of requirements.
The legal cannabis industry topped $7.3 billion in 2016, an increase of over 35% from 2015.
PACKAGING WORLD reports that while cannabis packaging design and storefronts are usually flashy and on the forefront of technology, packaging processes are lagging behind. Often these tasks are performed using expensive and inefficient manual labor. Most cannabis producers see the need for packaging automation to increase their throughput, keep up with demand, and decrease their labor costs.
When it comes to packaging automation, challenges abound in the US cannabis market for two main reasons, both of them having to do with the fact that the product is legal in certain states but not others, and still illegal on a federal level.
Many banks will not finance cannabis ventures, so purchasing packaging equipment for hundreds of thousands of dollars is difficult. Additionally, shipping cannabis across state lines is currently illegal, so entire supply chains must often exist in a single location. This makes it quite expensive to purchase a separate packaging machine for each facility since they cannot have a single large production facility that ships the product to ancillary locations.
The future of legal cannabis is uncertain, but we expect the market to continue growing, and with that, to see increased innovation with regards to cannabis packaging formats and processes.
3. The need for speed
Now more than ever, manufacturers and contract packagers are expected to bring products to market quickly to meet the near instant demand of their clients. Often this means slow, outdated packaging processes must be scrapped for HIGH-SPEED PACKAGING AUTOMATION.
The high-speed packaging automation solution of choice? Vertical form fill seal (VFFS) machines. Modern high-speed VFFS equipment can produce millions of packages per month with a high degree of accuracy. Combine that with cost savings from decreased waste and a reduction in manual labor, and high-speed packaging solutions are a top choice for CPG companies trying to keep up with an on-demand marketplace.
We've had clients comment, after investing in a high-speed packaging system, that they feel as though they are 'printing money'. The cost savings can be immense, and ROI can be realized almost immediately in many situations.
4. Packaging equipment on demand
From TV to groceries to home repair, we live in a world where products and services are increasingly desired on demand. The packaging equipment industry is certainly no exception.
Often a CPG company won't know until the last minute that they require a new packaging automation system. Waiting many months for a new packaging machine to be manufactured, configured, and delivered just isn't a viable solution in today's fast-paced world.
That's why smart packaging machine manufacturers are STOCKING EQUIPMENT IN-HOUSE, ready to ship on short notice. In the past, this was not considered viable as it tied a lot of cash up in inventory. But today, in-stock machines are leaving the manufacturer sometimes as quick as they are manufactured, and OEMs are embracing this mutually beneficial inventory model.
5. Flexible packaging sees long-term growth
Flexible packaging represented roughly 19% of the total $167 billion US packaging industry in 2017, up from 17% in 2000.
According to a NEW STUDY RELEASED BY THE FLEXIBLE PACKAGING ASSOCIATION, flexible packaging represented roughly 19% of the total $167 billion US packaging industry in 2017, up from 17% in 2000. Flexibles are the second largest packaging segment, beaten only by corrugated paper packaging formats.
Market trends influencing this growth are e-commerce (flexibles are lighter and cheaper to ship), increased availability of sustainable flexible packaging materials, and a general shift of consumer preference for convenient, safe, on-the-go packaging formats.
6. Working with less to create more
Many CPG companies report that due to a healthy economy and low unemployment, they are finding it increasingly difficult to recruit highly-skilled laborers to operate complex packaging machinery. Instead, they turn to packaging equipment manufacturers for systems that are easy to learn, simple to operate, and require minimal technical skill to troubleshoot.
Additionally, manufacturers are interested in machinery that occupies less floor space to maximize their profit per square foot, especially in urban areas and coastal cities where real estate is at a premium. VERTICAL FORM FILL SEAL MACHINES, especially HIGH-SPEED MODELS, are in demand for this reason.
Even when it comes to package design itself, minimalism is winning. Consumers have tons of things competing for their attention on a near constant basis. They don't want to have to read a wall of text or feel bombarded with 'busy' packaging when they go shopping. Using minimalist package design, top CPG companies are making it quick and easy for consumers to find their product, discern what it does, pick it up, and make their buying decision (which is usually yes when product is already in-hand).