Description:
♦This paste filling machine can be made to one or two filling nozzles.Semi-automatic liquid filling machine adopts pneumatic type.
♦This series piston filling machine is suitable for various kinds of high viscosity liquid products such as chemical, paste,food, shampoo,cream,medical, grease industries, etc.
♦The body and frame are made of stainless steel, which adopt laser cutting technology thus to achieve nice appearance and durable use.
♦The whole machine design refers to foreign same kind product, with additional functions, which makes it easier on operation, accuracy, filling range adjustment, cleaning and maintenance,etc.
GP-FHM series vertical cream filling machines
Capacity 15-150ml,25-250ml,50-500ml,100-1000ml(can be made as your demands)
Speed 20-50 bottles per minute(500ml bottle as example)
Precision <±0.5%
Size(L*W*H) 500*450*1580mm
Weight 65KG
Air pressure 4-6mpa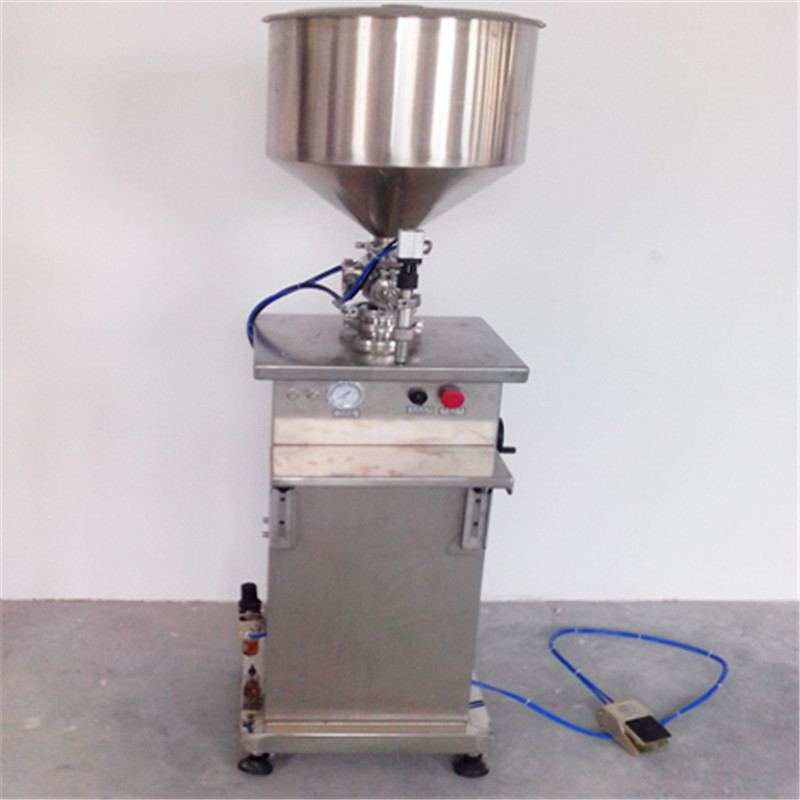 Application of vertical filling machine for materials with different voscosity:
water honey sugar acid cheese
fruit juice shower gel gear oil
liquid coffee ink eye shadow fluid
tea shampoo glue
food/paint washing hand fluid cream
milk liquid soap butter
syrup plant oil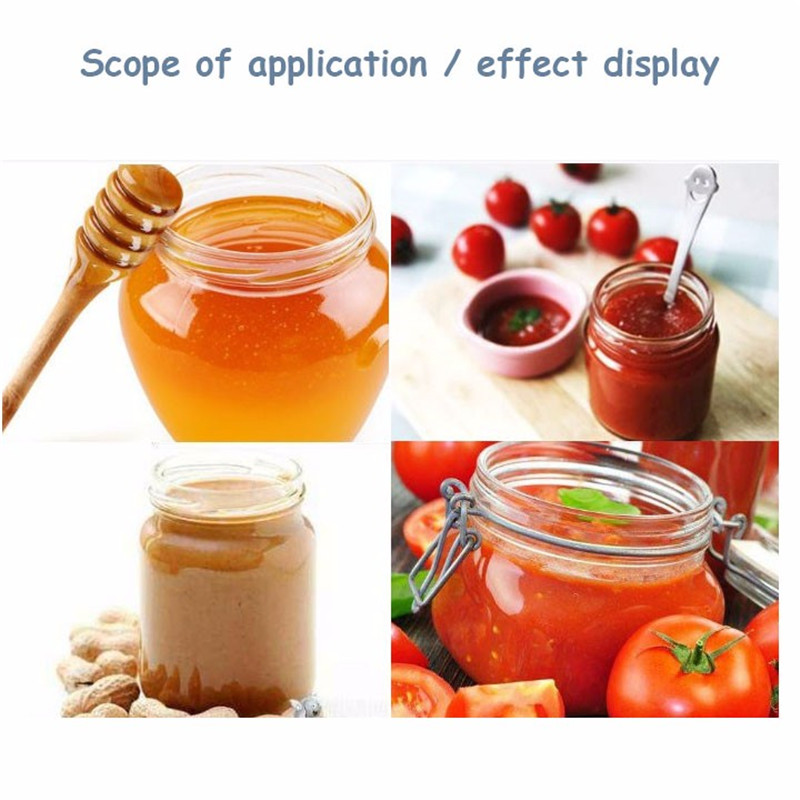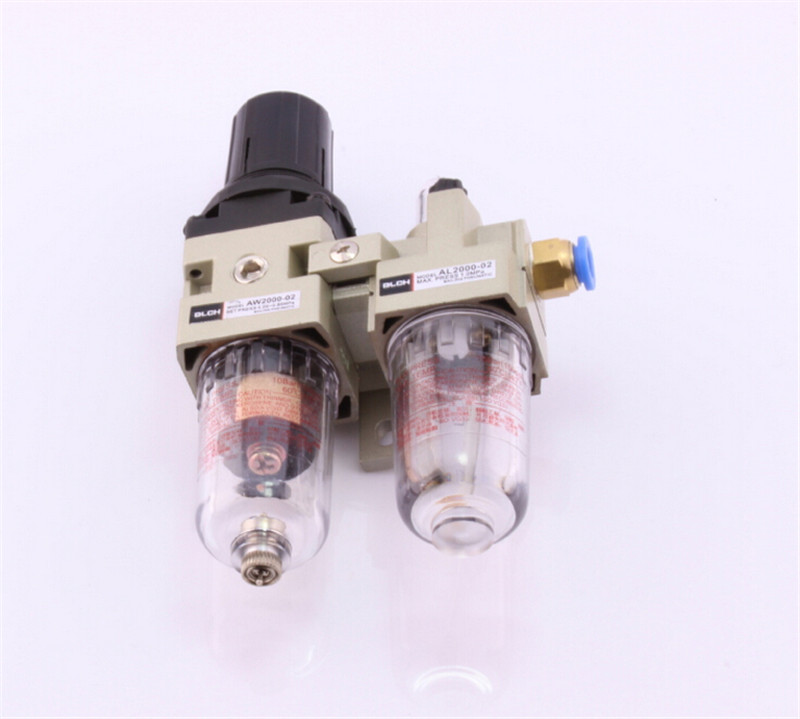 This unit vertical filling machine adopts pneumatic components to replace electrical control circuit, so it is quite suitable for the use in the request of anti-explosion environment .
There are kinds of models according to the maximum filling volume of the customer's request.
Specific models of GP series cream filling machine vertical: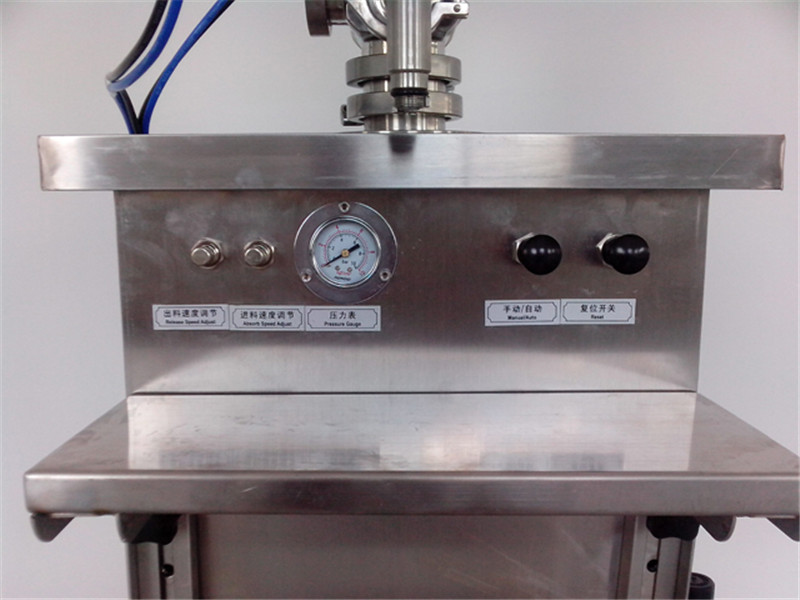 GP-FHM 5 (5-60ml)
GP-FHM- 10 (10-120ml)
GP-FHM- 25 (20-250ml)
GP-FHM- 50 (50-500ml)
GP-FHM- 100 (100-1000ml)
GP-FHM- 250 (250-2500 ml)
GP-FHM- 500 (500-5000 ml)
| | |
| --- | --- |
| Capacity | 15-150ml,25-250ml,50-500ml,100-1000ml(can be made as your demands) |
| Speed | 20-50 bottles per minute(500ml bottle as example) |
| Precision | <±0.5% |
| Size(L*W*H) | 500*450*1580mm |
| Weight | 65KG |
| Air pressure | 4-6mpa |
Feature on vertical filling machine cream semi automatic:

A. All adopt compressed air as the control, so they are quite suitable for the use in the request of anti-explosion environment, has high safety.
B. No phenomenon of static electricity, the leakage of electricity and no need to connect the ground wire
C. All adopt pneumatic control besides hardware positioning, so they have high filling precision as the precision can be controlled within 0.5%.
(With the greatest amount of filling as standards)
A nozzle is a device that is designed to control the direction of the fluid flow as it exits the filler into the container. At Filamatic, our nozzles are fabricated to order, made from Type 316 stainless steel, and are available in a variety of types to provide drip-free, foam-free, and string-free fills with your product.
Work principle on semi automatic vertical cream filling machine: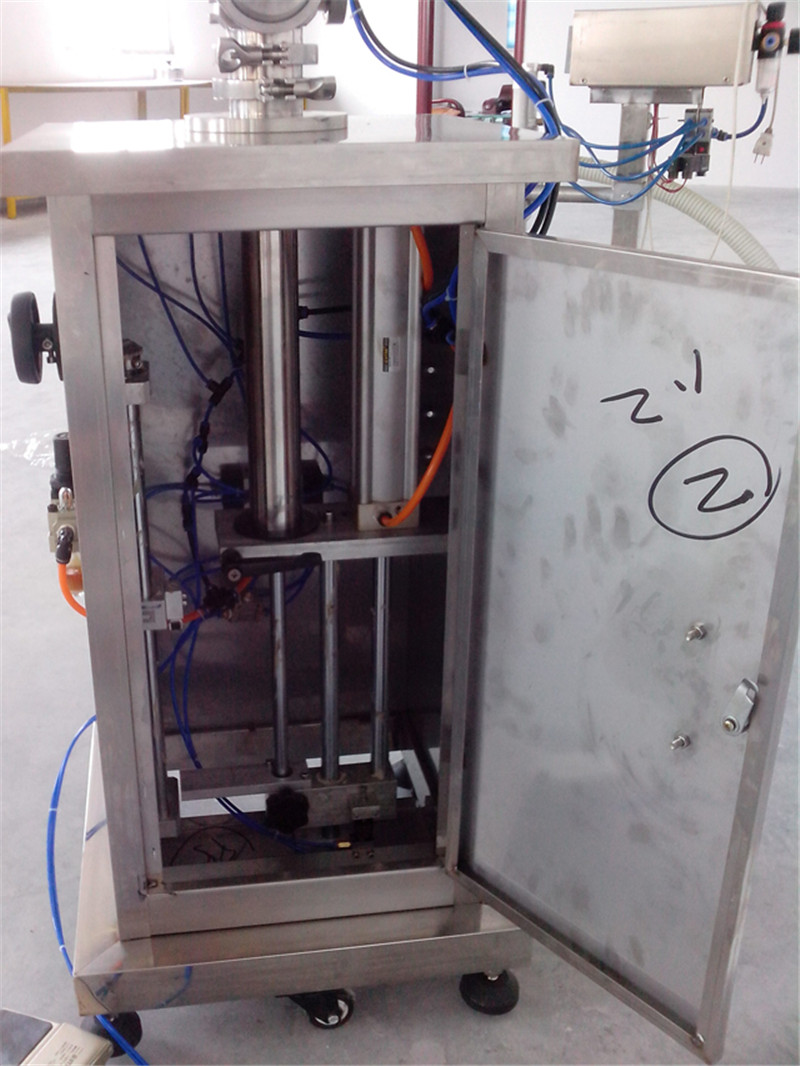 A. Through the cylinder's movement of forward and backward to make the piston which is located in the cylinder do reciprocating movement, so as to occur the negative pressure in the preceding chest of the cylinder
B. The piston is pulled backward when the cylinder make forward movement, the material cylinder occurred negative pressure, the materials in the barrel are pressed into the feeding pipe by pressure and go into the material pipe through unidirectional valve of feeding and discharging materials .
C. The piston is driven forward when the cylinder make backward movement, the materials are pressed and go into discharging pipe through unidirectional valve of discharging materials, finally filled into the empty bottle which need to be filled, then one time filling finished.
D. It is a single and simple action to each time of filling for the piston filling machine, so it has very high filling precision and stability to every regular container
Structure: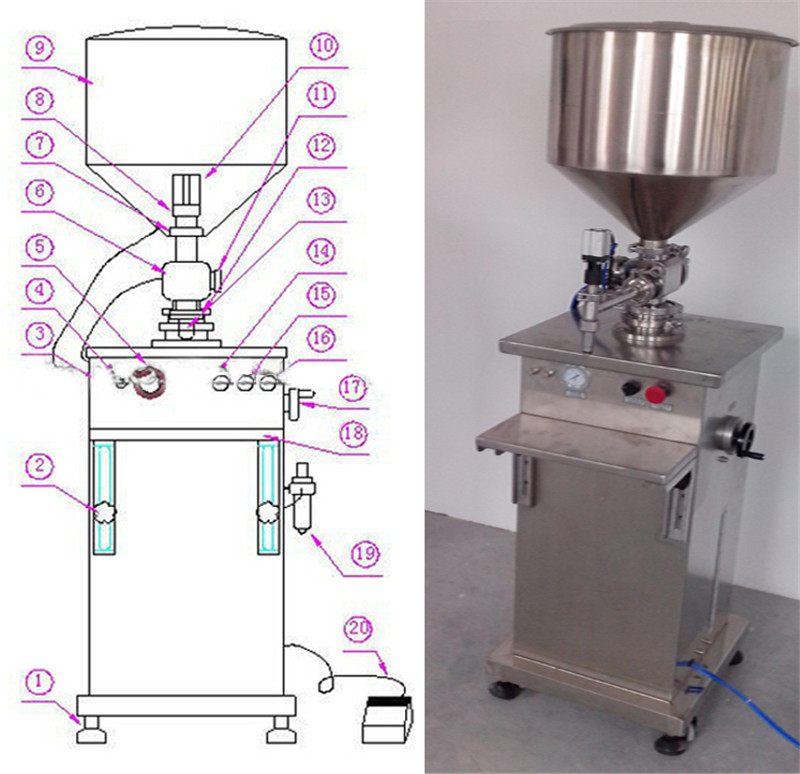 1. Foot 2. Tray Positioning
3. Discharging Pressure Adjusting Valve 4. Sucking Pressure Adjusting Valve 5.Pressure Gauge 6. Material Jar Rotary Valve
7. Hoops 8. Filling Nozzle Positioning 9.Hopper 10. Filling Nozzle Cylinder 11. Rotary Valve Hickey
12. Hoops 13. Filling Nozzle
14. Manual/Auto Switch 15. Reset Button
16. Air supply Switch 17. Filling Capacity Adjusting Knob
18. Tray 19. Gas Routine Pressure Adjusting Valve
20. Foot Pedal Switch
Warning:
For cleaning :
The compressed air must be confirmed turned off.
Forbid use the organic solvent to wash machine. such as gasoline.
benzene, xylene, bananas water, sodium hypochlorite. etc
Other models for vertical filling machine cream GP series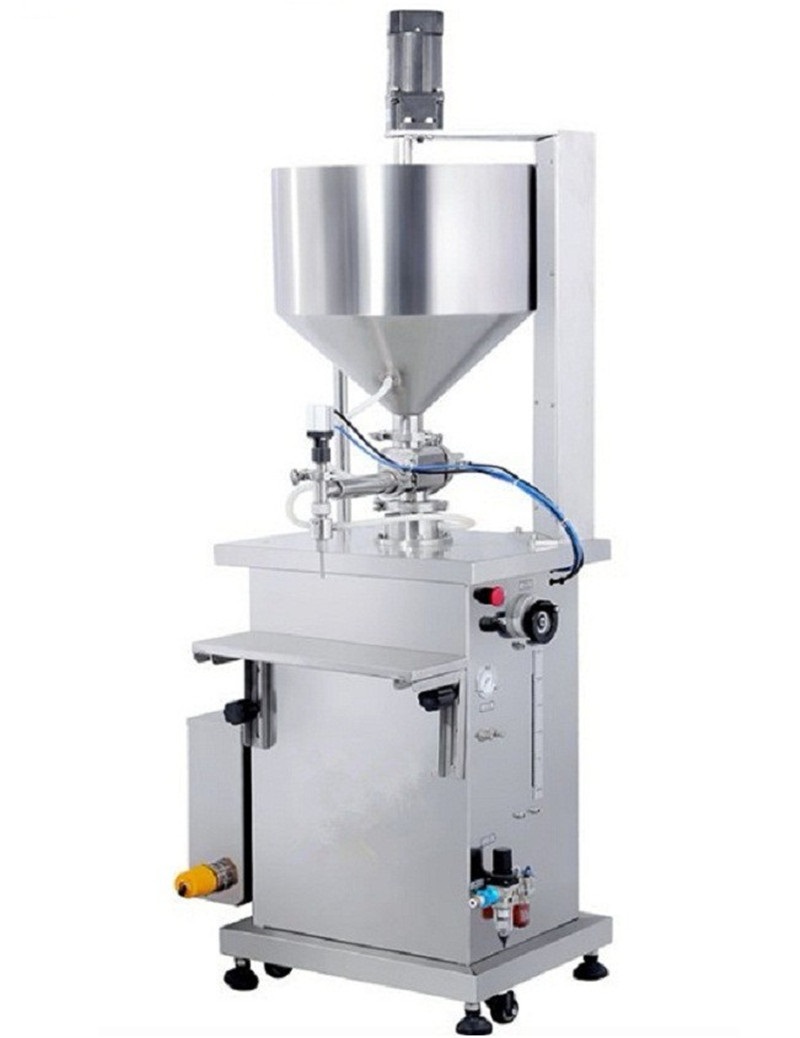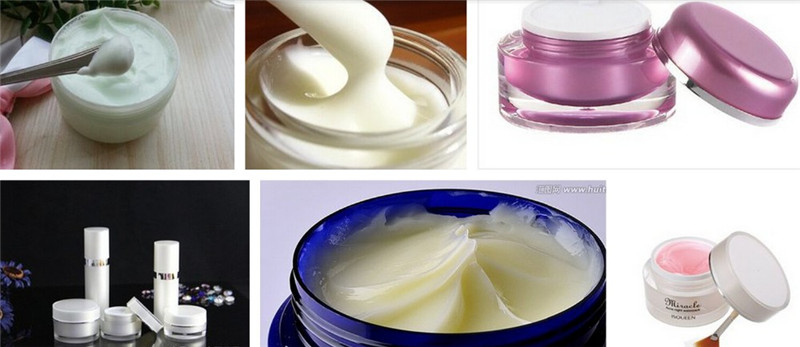 5Liter cream filling machine vertical without hopper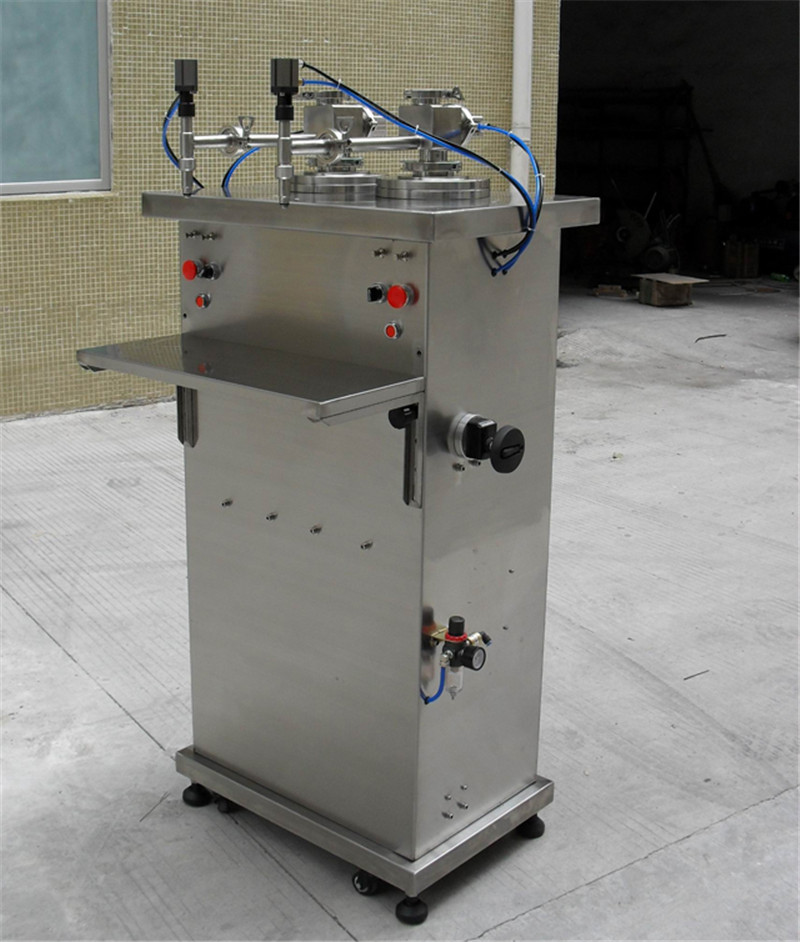 Shipping&after-sales service for GP series filling machines: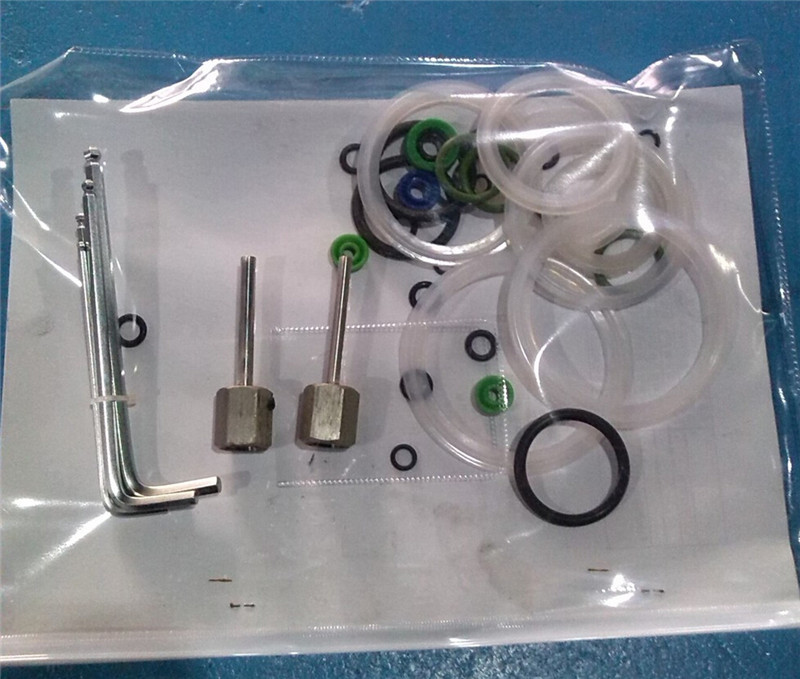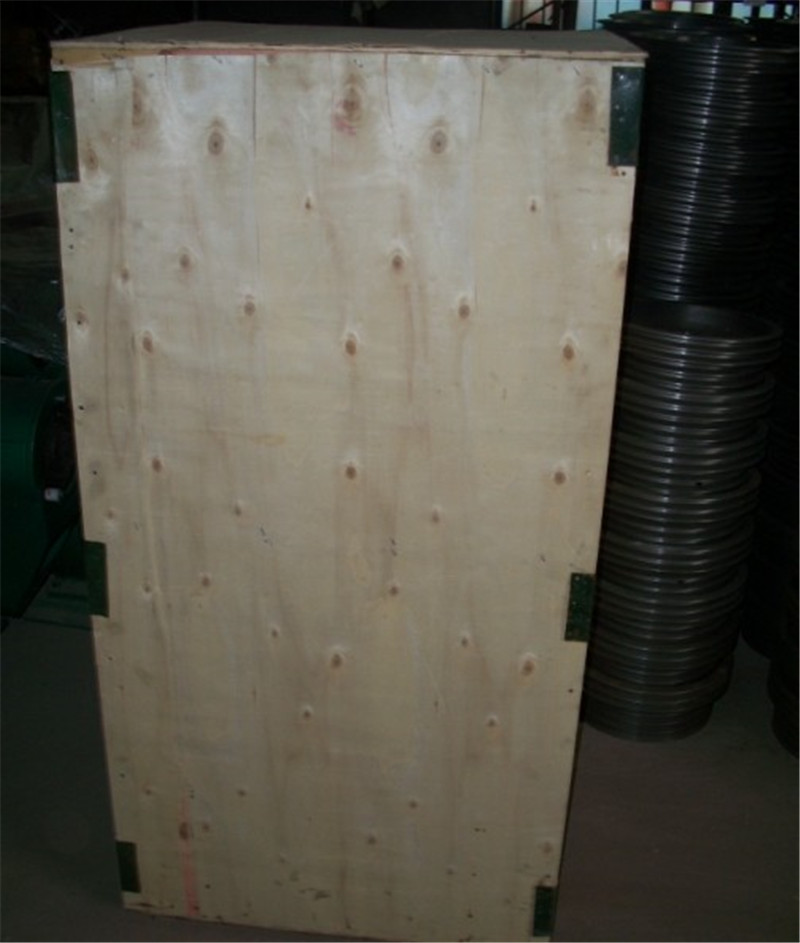 The above machine which we supply it to you, we supply you one year's after sales warranty, we can also dispatch our engineer to your factory to install this equipment and train your staff, but the Buyer should pay the round air ticket cost and arrange the hotel accommodation as well as the means for Seller's engineer. We will send some free set of spare parts for you change it.
Payment terms: vertical filling machine vertical filling machine vertical filling machine

30% deposit by T/T before production, 70% balance should be paid by T/T before shipment.
Package:

Standard wooden Case Packing
Shipment terms:

We usually take FOB, but we can also accept EXW,CIF,CNF.