Decription:
Essential oil bottling line automatic diffuser herbal liquid filling capping machine rotary filler capper bottles production
Model GP-05G
Power: ~220V/single phase Current: 7A
Frequency: 50HZ Air pressure: 0.7MPa
Power: 1100W Size:1900*1550*1850mm
Weight: 485 kg Gross weight:555kg
Filling volume: 1ml to 150ml
Machine can be customized &powdered in USA standard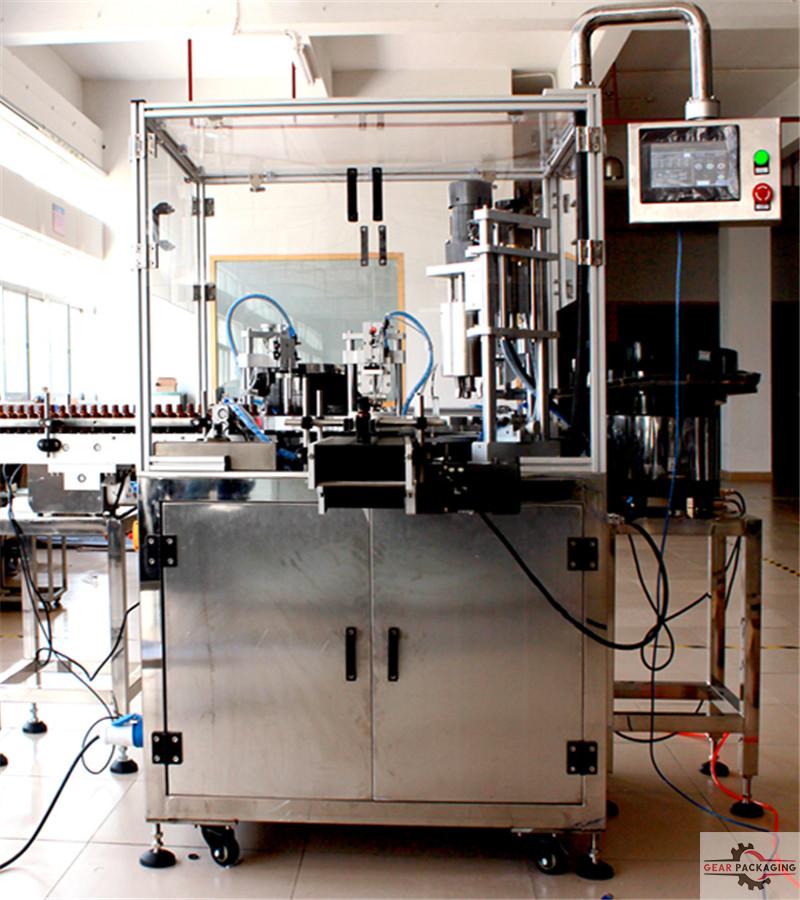 Ⅰ: Notice before starting the machine.
1.The machine is powered by single phase/220V alternative current; Confirm the right connection before turning on the machine.
2.Check if the air pressure be connected in a proper way.
3.If there are any foreign objects on the machine and in the mould,Remove the foreign objects;
4.Confirm the hoses connected with peristaltic pumps be placed into the materials tank;
5.Check if the filling nozzles be aligned with the bottles mouth,capping heads with the bottles;
Ⅱ:Basic Data of model YX-50G perfume filling pressing machine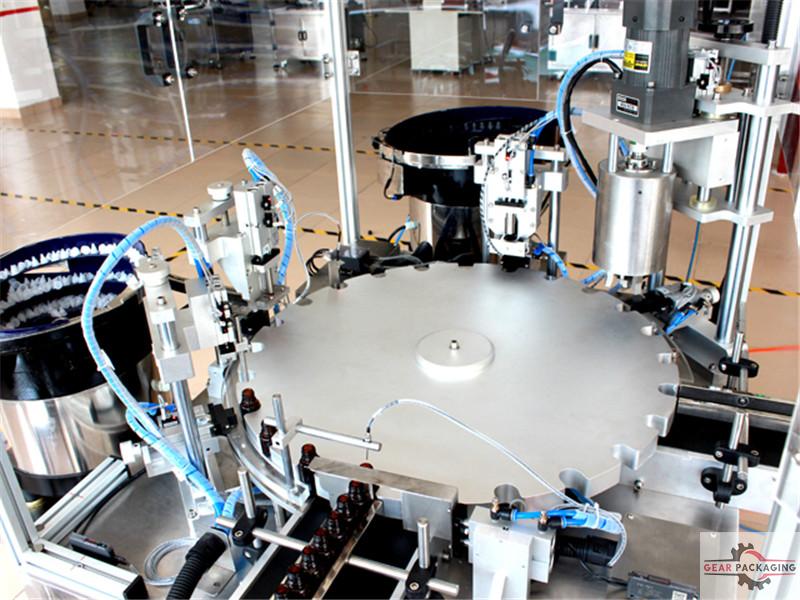 | | |
| --- | --- |
| Power: ~220V | Current: 7A |
| Frequency: 50HZ | Air pressure: 0.7MPa |
| Power: 1100W | Size:1900*1550*1850mm |
| Weight: 485 kg | Filling volume: 1ml to 150ml |
Machine running video:
Ⅲ:Operation Precess:
1. Start-up Screen

Click the Window in English then begin next step
2. Monitor Operation.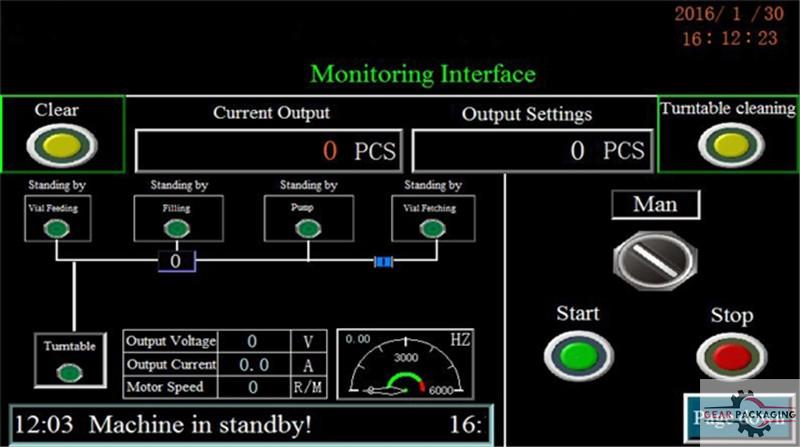 (1)Current Capacity



The capacity setting indicates the products output needed; The machine will stop automatically when the pre-set capacity targets the current capacity;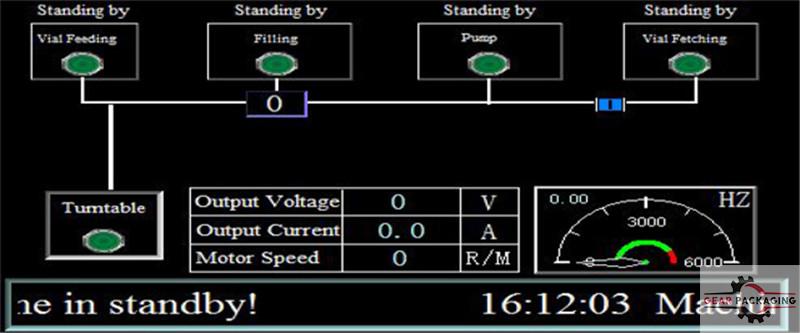 Each station view in the monitoring screen.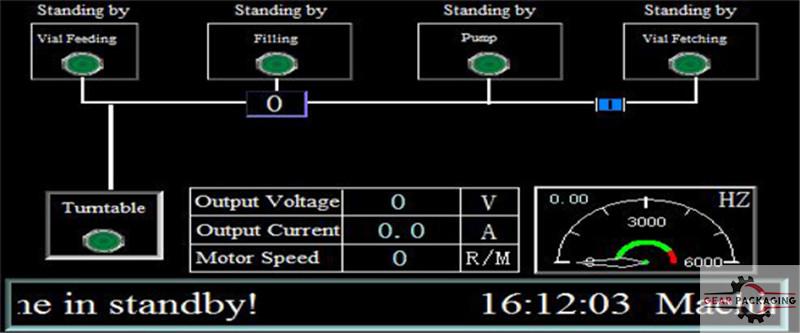 Monitoring data from Rotary starwheel motor
(1) Alarming




Indication of the current station of machine and error in the machine.
(2) Manu/Auto

Manu/Auto, Switch between the two buttons according to the operation requirements;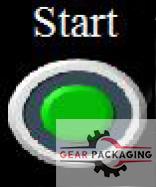 Automatic Procedure, select this button from Manu/Auto orders,the machine will be operated automatically;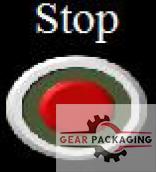 Automatically stop. Press this button the machine will stop to operate, even if there is no any alarming signs;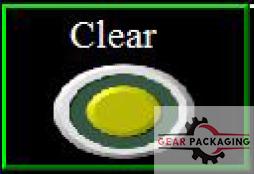 Automatically clear,Press this button to remove the semi-products in the如果要star wheel,then the machine will stop automatically;


The sign functions that when there is no the inner plug detected in the bottles the starwheel will stop to rotate; Re-place the inner plug on the bottles, press the button the machine will re-start;
Ⅳ.Manual operation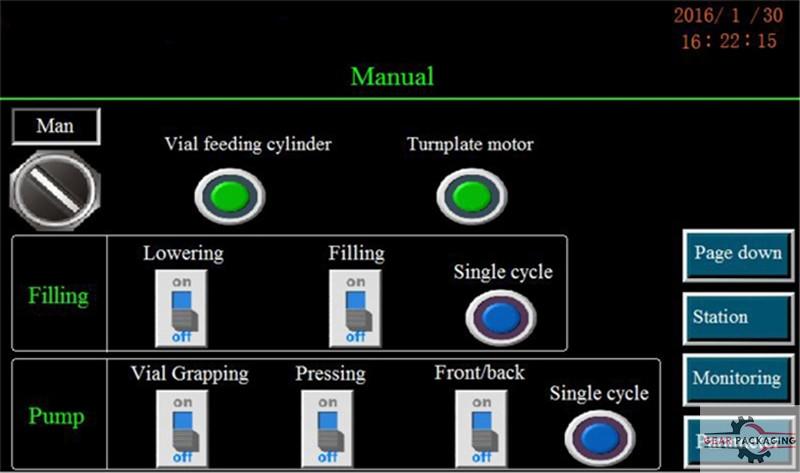 Manual Operation: It indicates that Activate each act in the machine separately in order to customize and commission the machine before normally operation;
(1). Manu/Auto


Be sure that the Manu order be selected. The sign in the left is the Manu situation;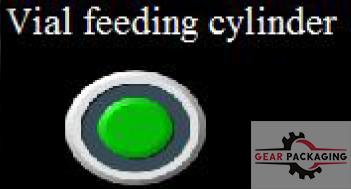 Bottles-feeding cylinder
The feeding cylinder means that the materials will be guided into the chute by the bottles feeding cylinder which will subsequently push the pneumatic elements guiding the bottles into the station of the starwheel;
(2). Turnplate(starwheel)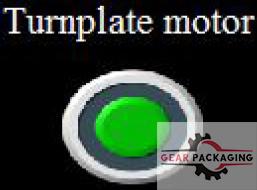 Press the button on the Manu situation,the starwheel will rotate by one station。
(4). Station Action。



(1. Station: Function according to its use.
(2. Action: Operate the action separately.
(3. Single cylce: The mode can operate the machine by integrating one station with the other. It is mainly for the commissioning of machine; .
Notice under the Manu mode:
(1. Be sure the material be placed correctly on each station;
(2. Be sure the action do not damage on the materials before activation
(3. Be sure there be some containers holding the liquid when testing the filling station
4.Parameter setting


(1). Vial feeding sensing time: The 2pcs sensing fibers over the feeding cylinder detect the bottles,then push the bottles in the sensing time;
(2). Filling time: The time indicates the lifting time of filling nozzle instead of the actual time to fill the liquid; The liquid filling time must be set in the filling machine but the FILLING TIME must be longer than the one set in the filling machine;
(3). Turnplate start delay: It means that the machine is operated ,The time when the turnplate starts to rotate after the action in each station is completed;
(4). Filling Rise Delay: After finishing filling the time to delay the rising of filling nozzle;
(5). Pupm pressing-fitting time: It means that the pressing time keeps on the bottles when the pneumatic element presses the pump on the bottle;.
(6). Vial press in place delay: The same function as item(5
(7). Pump feeding holding time: It means the time between the clamping and pressing the pump on the bottles from the pneumatic element;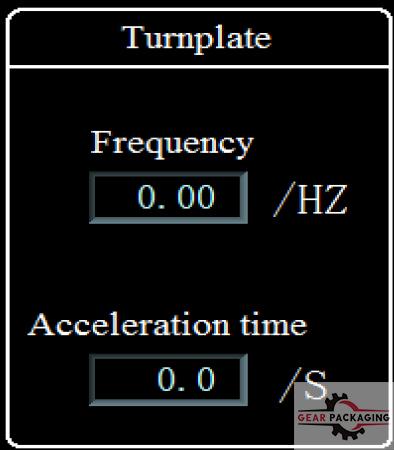 (8).The data in the form is the parameter from the turnplate motor which mainly functions to adjust the rotatation speed and acceleration time for starting the turnplate;
Notice: Do not adjust the parameter in the form at your will;
5. Station Selection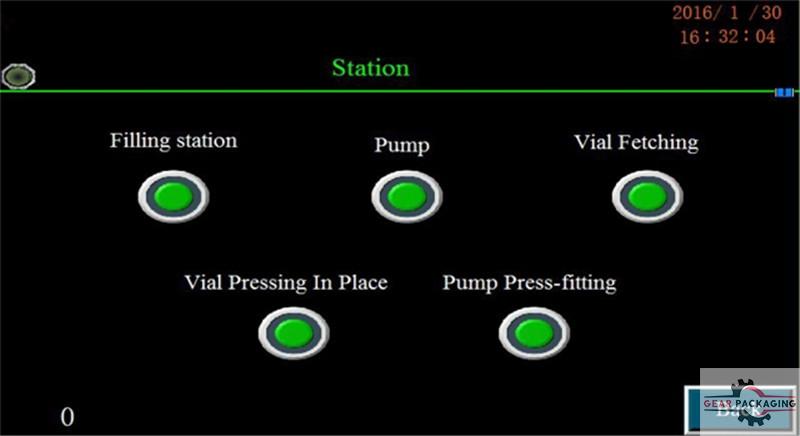 Machine adjusting video:
The station selection is developed in order to operation the machine more conveniently and agilely; the User can choose which station should be activated and which be not; For every selection at least one station is under operation; The button for each station is cut off from power therefore the station controlling button must be controlled by hand;
Notice:Please select working station after stopping the machine;
Ⅳ.Machine close pictures& drawing of model GP-G05 filling pressing line: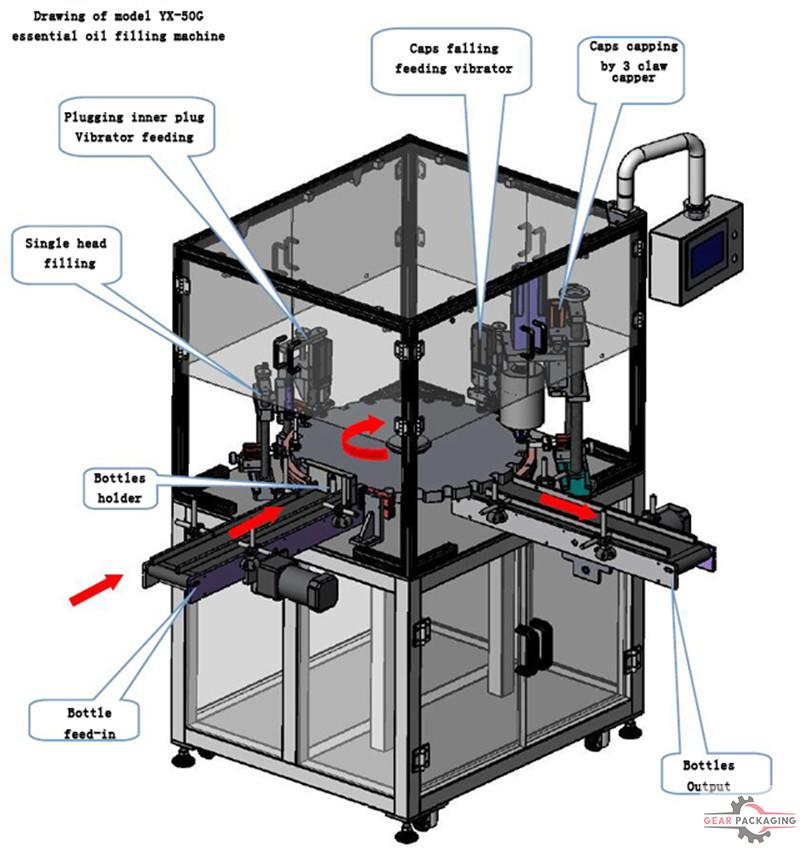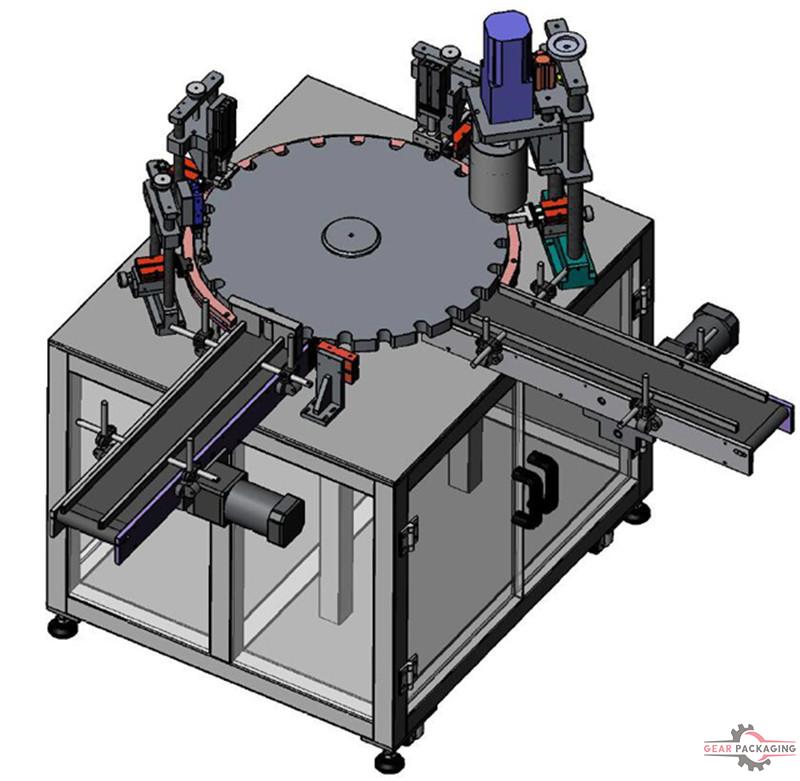 Station explanation:
(1). Bottles feeding:Vibrate bowl feeding the bottles,pneumatic elements guiding the bottles into turnplate,then the pneumatic elements retreat;
(2). Bottles pressing: Due to the free fall from the bottles fed by the pneumatic elements,the sation makes the bottle reach the bottom of holder;
(3). Filling station: Fill the liquid into the bottles; the station works together with the peristaltic pumps;
(4). Robot feeding: the robot feeds the pump into the bottles.
(5). Pressing Station: Tighten the bottles with the pump;
(6). Output: moving the final products out of the turnplate
2.Detector Switch
(1). Vials feeding station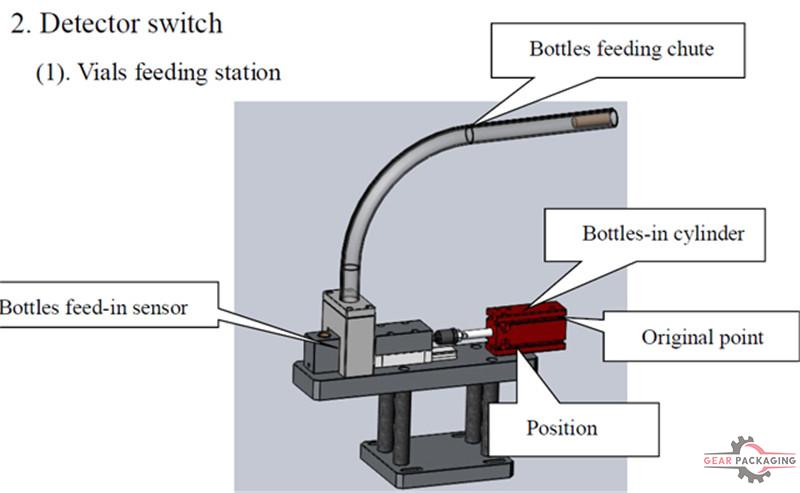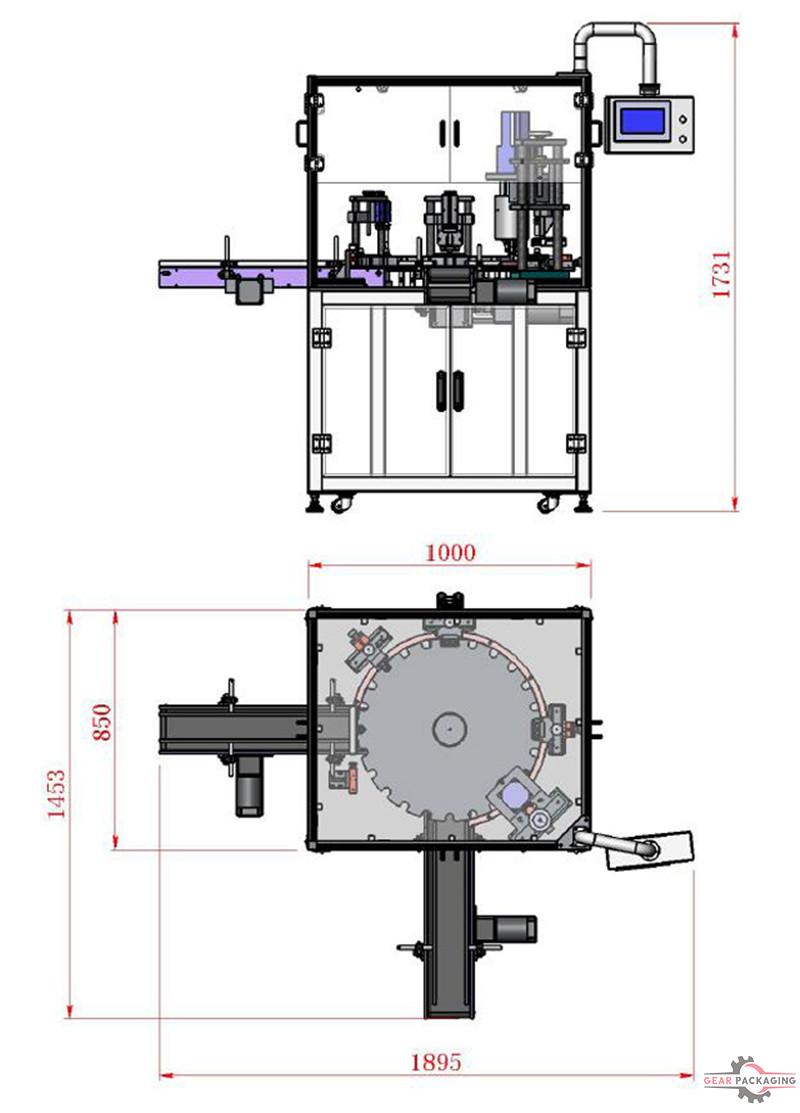 [1]. Bottles-in cylinder: Guide the bottles in chute into the turnplate
[2]. Original point:: Bottles-in cylinder original place
[3]. Bottles-in Position: the sign of bottles in proper position
[4]. Feed-in sensor: The 2pcs of fibers detect the position in the chute; Either of the fiber cannot detect the bottles then the bottles-in cylinder will not work;.
Preceess:
Vibrator feeding bottles
↓
Bottles sensor fiber → bottles-in sensing time
+ +
Original point clinder Turnplate original point
↓
Bottles-in cylinder(forwarding) → Position switch
↓
Bottles-in cylinder(retreating)
Notice: The machine is operated under fully automatic mode; take notice of the detecting switches
(2). Filing station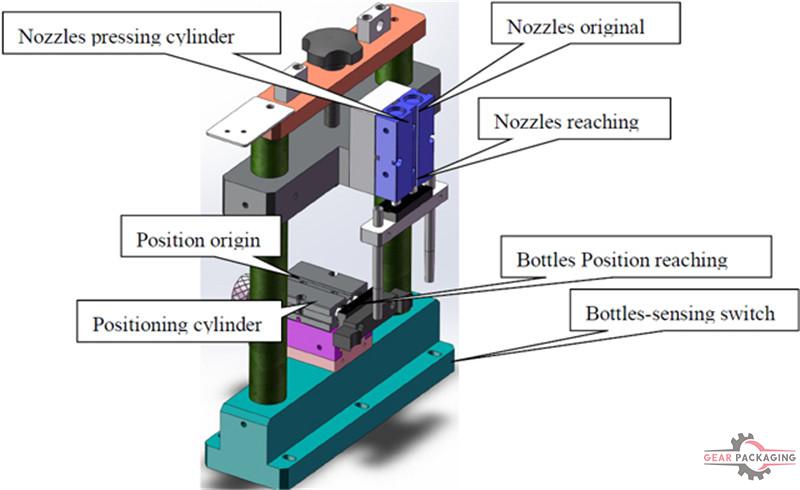 [1]. Bottles-sensing switch: Detect the materials under the station and activation of station;.
[2]. Positioning cylinder: The detecting switch detects there is the material below the station the cylinder will position the material;
[3]. Bottles position origin: The switch is the mark for action-complete of stations and turnplate action;
[4]. Bottles position reaching: The position cylinder completes the reaching of bottles
[5]. Nozzles pressing cylinder: Reach the filling nozzles into bottles;
[6]. Nozzles pressing original point: the nozzle retreat on the origin point;
[7]. Nozzles reaching: detect if the filling nozzle reach into the bottles or not
Process: Turnplate acts → bottles detecting switch → Station standby if there is no material
↓ (material there)
Bottles positioning cylinder
↓(start)
Bottles reaching
↓
Nozzles pressing cylinder
↓(pressing)
Nozzles reaching
↓
Filling starts up
↓(filling time)
Filling pressing cylinder
↓(rising)
Nozzles original point
↓
Bottles position cylinder
↓(Retreat)
Bottles position origine(filling station completing)
(3). Pump pressing station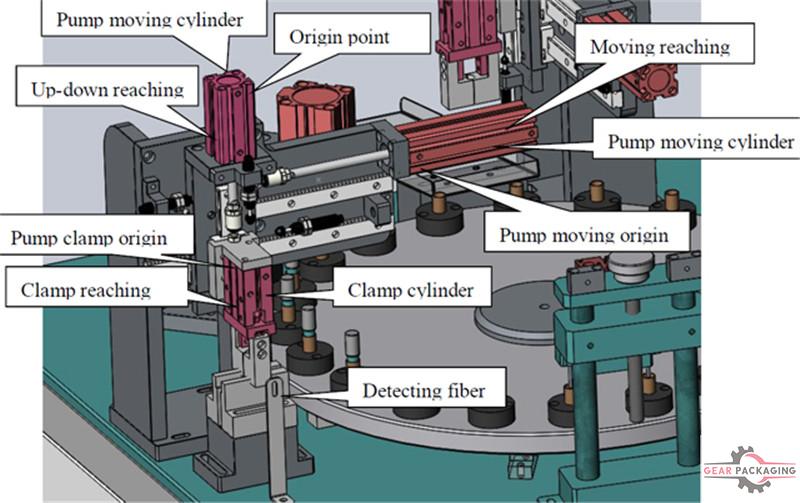 [1]. Bottles station detecting switch: Detect the materials under the station and activation of station;
[2]. Positioning cylinder: The detecting switch detects there is the material below the station the cylinder will position the material;
[3]. Bottles position origin: The switch is the mark for action-complete of stations and turnplate action;
[4]. Clamping cylinder: Clamping the pump;
[5]. Clamping origin: Clamping in a loose situation;
[6]. Clamping reaching: The bottles reaching into the station
[7]. Pump reaching detector: Vibrator bowl guide the inner plug into the chute then detect if the inner plug be placed rightly in order to activate the next action;
[8]. Pump cylinder: take and place the pump
[9]. Pump horizontal moving cylinder: place the clamped pump on the top of bottle in the turnplate;
Process: Turnplate acts → Bottles detecting switch→ Stand-by
↓ ↓(material there) (No material there)
Pump reaching detecting
↓
Pump reaching + pump cylinder moves up-down(Pressing)
↓
Pressing reaching detecting switch
↓
Pump-clamping detecting switch
↓
Complete pump-clamping
↓
Pump cylinder up-down(Upward)
↓
Pump cylinder reaching origin point
↓
Pump horizontal moving cylinder
↓
Horizontal moving reaching
↓
Pump cylinder up-down(downward)
↓
Pump up-down moving reaching
↓
Pump staying time
↓
Pump clamping cylinder loose
↓
Pump cylinder up-down(Upward)
↓
Pump horizontal cylinder (retreat)

(4). Output station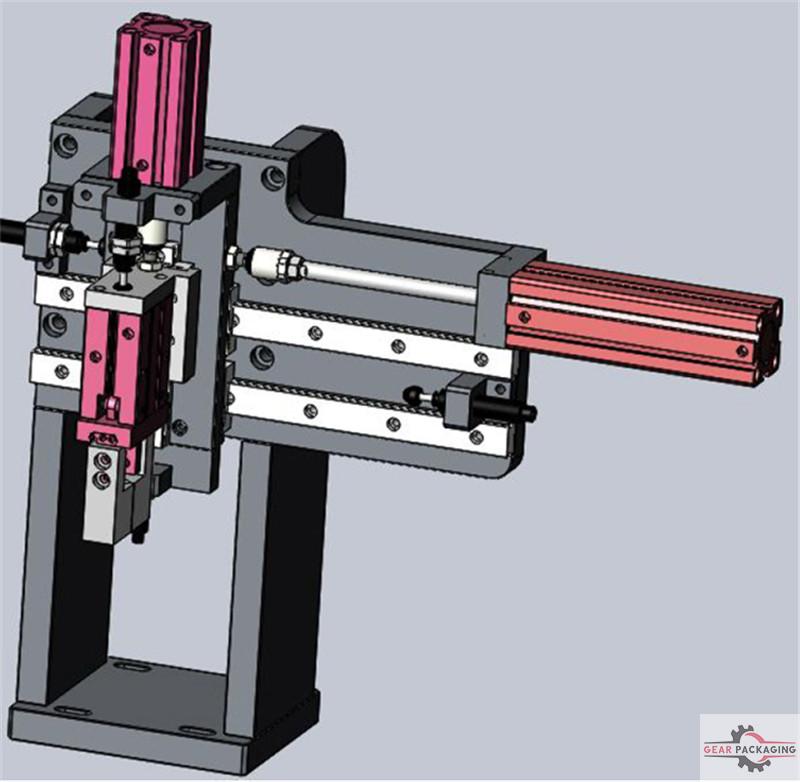 The same working principle as the above-mentioned pump-pressing station;
Ⅴ.Maintenance


1、It is necessary to check and maintain the machine to elongate the machine and optimize the function of machine;
The working machine should be maintained every three month; The bearing and gear transmission part must be lubricated with the grease; The lubrication must be done periodically; The slide way oil (N68) should be added into the part like reciprocating mechanism motion or lifting two times every day; The automobile oil(N68) should be added into the rotary or swinging parts; Every half month add the grease into the cam slot; Every month one time for oil nozzle by adding the grease;
2 Never use metal tools to hit or scrape the surface where the bonding is conglomerated on the parts like components or mold.
3.If the machine stops running for a long time add the grease for lubrication in the parts like transmission or bearing part; Also treat the machine with water-proof protection。
4 Never put any objects on the machine lest it damage the machine.
5. Clean the dust inside the components periodically also check all the screws and fix any screw loosened.
6. Check the screws in the terminals for wiring at a certain time and be sure the screw is fixed;
7.Check if there be any loose station in the stretched wiring path from the electric boxes ; If the part is too loose re-fix the screw in order to avoid the abrasion or damage in the insulation layer which may cause the electric leakage;
8. Check the easily-worn pats and change the damaged one on time;
Output of filled-pressed bottles from model GP-G05 filling pressing monoblock: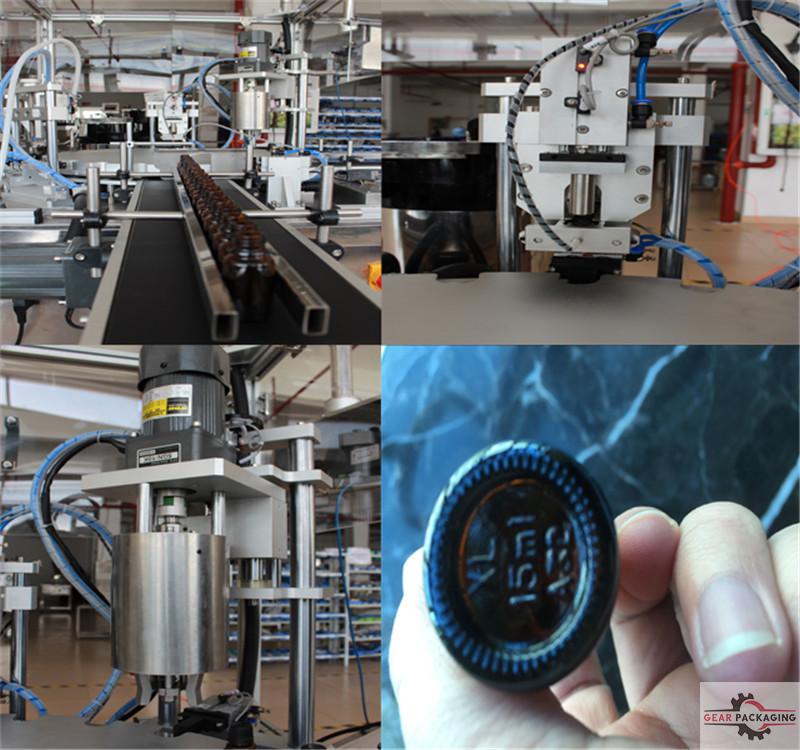 Ⅵ.Packaging & Transportation
Never lay the machine horizontally or upright down ; Dissemble the foot of machine and fix the whole machine with the bottom of crate .The machine should keep still in the crate without any loose from the crate or shake station during shipping;
The packing of machine should be neutral; When moving the machine please use the forklift truck or crane and move the machine from the bottom in stable movement; Notice the illustration in the picture as below; when hoisting and swinging the machine the crane should not be allowed to contact the machine. Fix the machine with 4pcs M16X200 of bolts then link the cranes and the bolts for hoisting and swinging of machines. Meanwhile to cushion the protection objects under the machine. Use the strut for stable hoisting if necessary (illustrated as below in fig)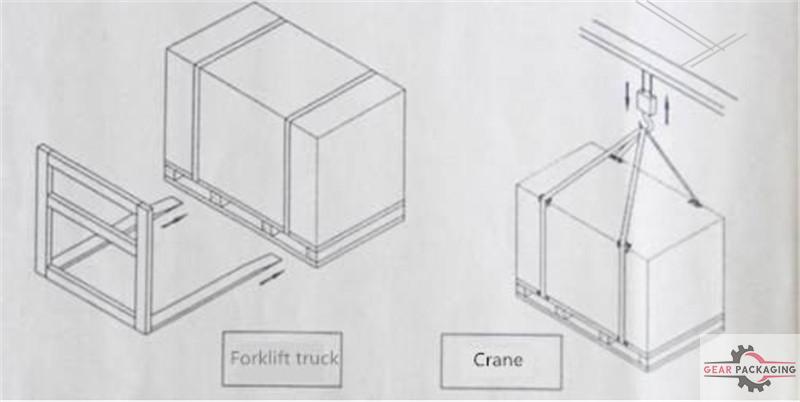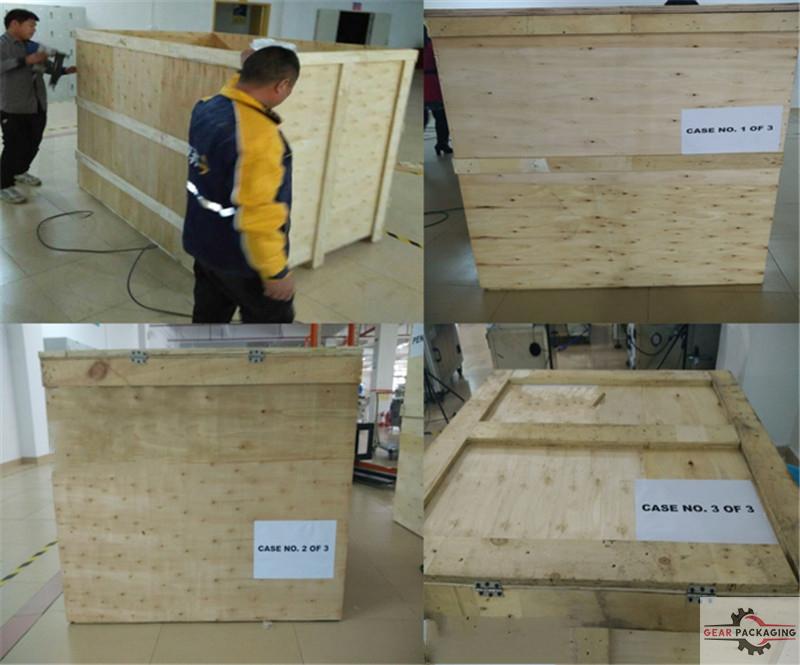 Customized testing video:
Before unpacking the crate check if there be any damage on the crate; If any damage occurs on the crate do not open the crate and contact the shipping company immediately; Open the crate under the scrutiny from the shipping workers and record the process;
As far as the safety is concerned the distance from the ground for the forklift truck should be kept below 1m; If using the crane moving the machine the distance should be kept from 2meters to 2.5meters
Ⅶ. Common Faults & Trouble-shooting
| | |
| --- | --- |
| Fault | Trouble-shooting |
| No working when starting the machine | Check the supply power |
| Bottles delivered along the conveyor at the unstable condition like falling ,shaking; | Adjust the bottles clamping part |
| Filling head deviated from the bottles | Adjust the filling head |
| Dripping of filling liquid | Adjust the back suction speed and volume |
| No action from capping cylinder or peristaltic pump | Adjust the position sensor |
| Capping effect loose | Adjust the capping structure |