Desciption:
Benchtop can sealing machine semi automatic can beer metal tin capping seaming machine drinking container sealer equipment
Model GP-A16
Capacity:25cans per min
Applicable height: 39mm-280mm
Cans diameter φ35-φ220mm
Power:370w
Machine size:L620×W260×H880
Packign size:800×350×1000mm
Net weight:70Kg Gross Weight:84KG
Features of sealing machine for jar:
1.This semi automatic can capping machine is suitable for all kinds of iron, plastic, glass, paper cans.For the capping of the tinplate cover, aluminum cover,pop can cover capping.
2. Reliable Quality, simple and convenient operation. This semi automatic can capping machine is an ideal equipment for the food, drinks, tea and other industries essential.
3.Customzied service is available. According to customer different can size.
4.This semi automatic can capping machine is suitable for small capacity production,economice price.
Application of sealing machine for jar:
Sealing machine is suitable for round mouth of metal cans, PET plastic containers, paper, cans, and other cans sealed. Reliable quality, on lid seaming molding, to achieve watertight, no edges, no wrinkles requirements. Foot switch and automatic loading and continuous work function, lightweight and easy to operate, the use of lighting power, one person can complete the operation. This compared with the conventional electric seamer seamer foot lever, greatly improving the sealing efficiency, reduce labor intensity and reduce the defective products caused by human factors, the food, beverage, health care products nourishing industry ideal necessary equipment and the like.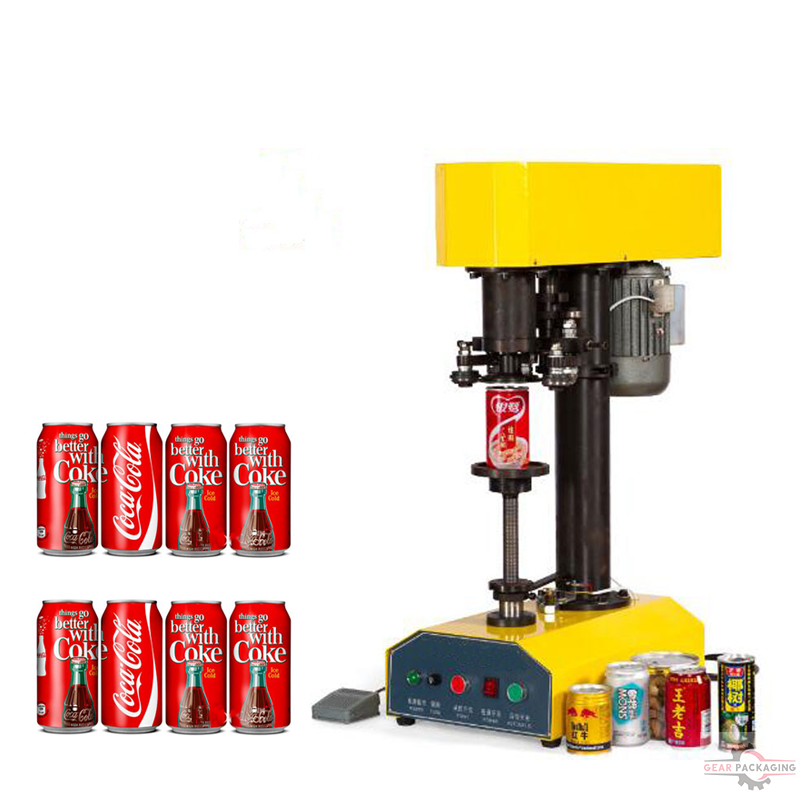 Testing video:
According to our customers' requirements we design and manufacture the cans sealing machine in order to solve the problem in difficult adjustment of sealing plum taking up too much space .The price is economical than the model GP-A16 series while the later is more advanced in sealing problem by keeping the cans stationary.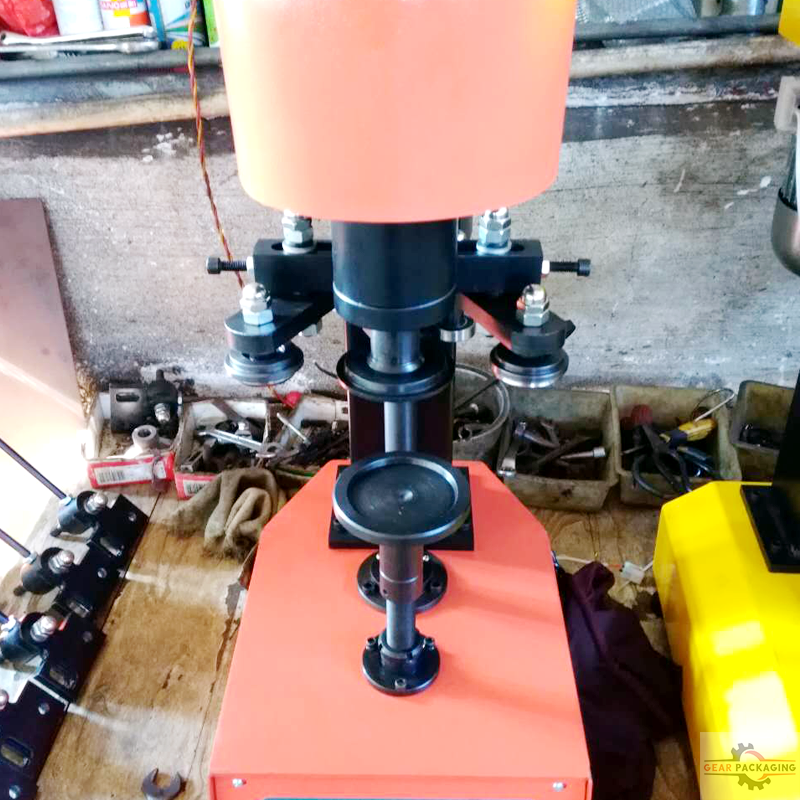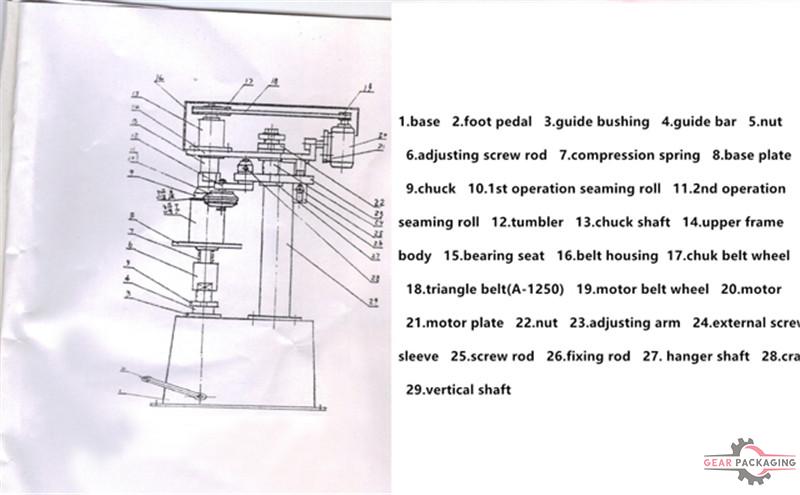 Basic parameter of Model GP-A16 Tabeltop cans sealing machine metal PET can sealer benchtop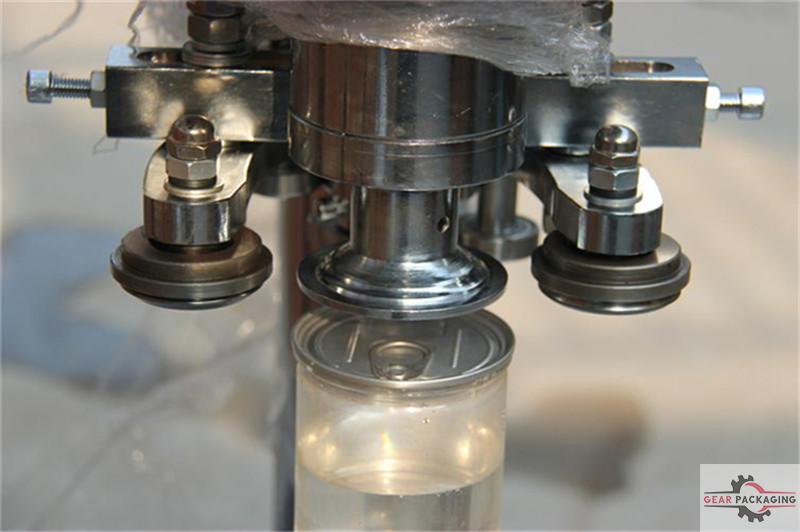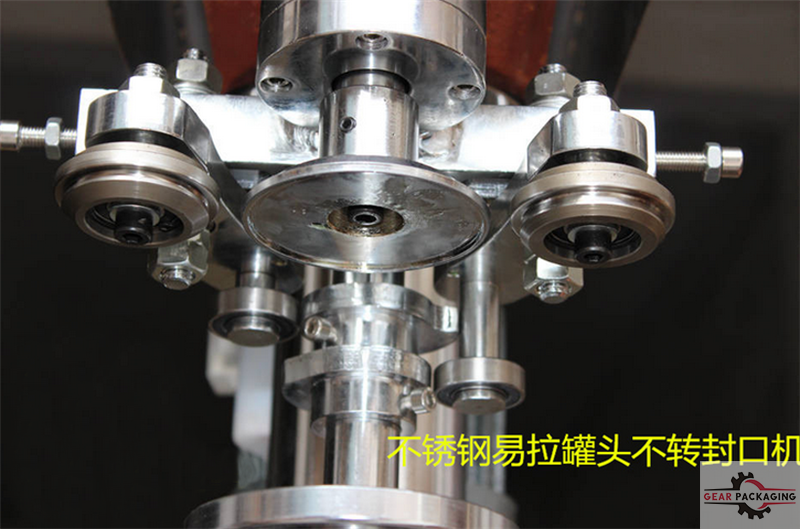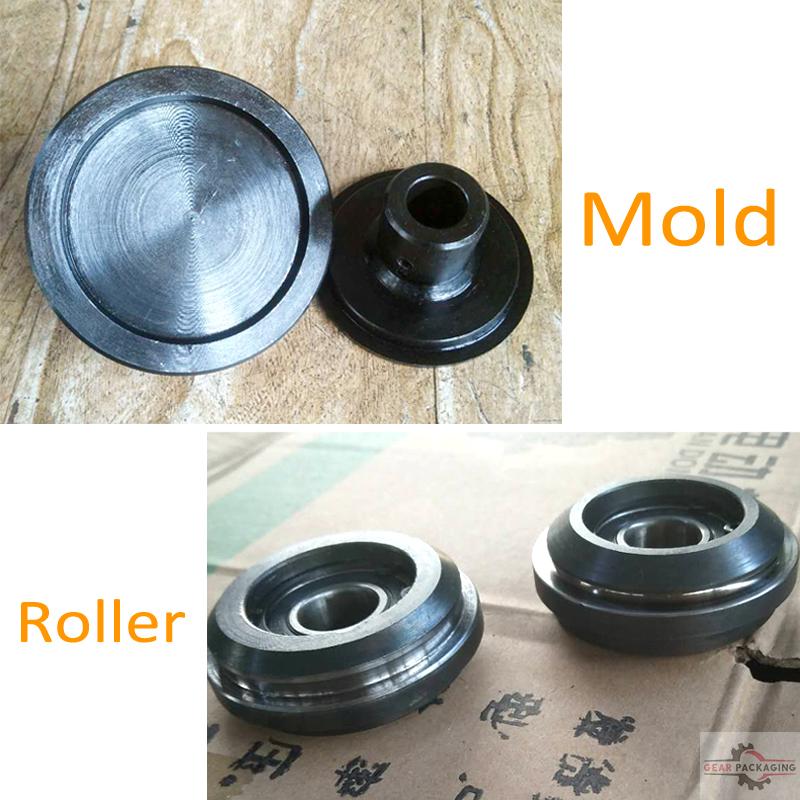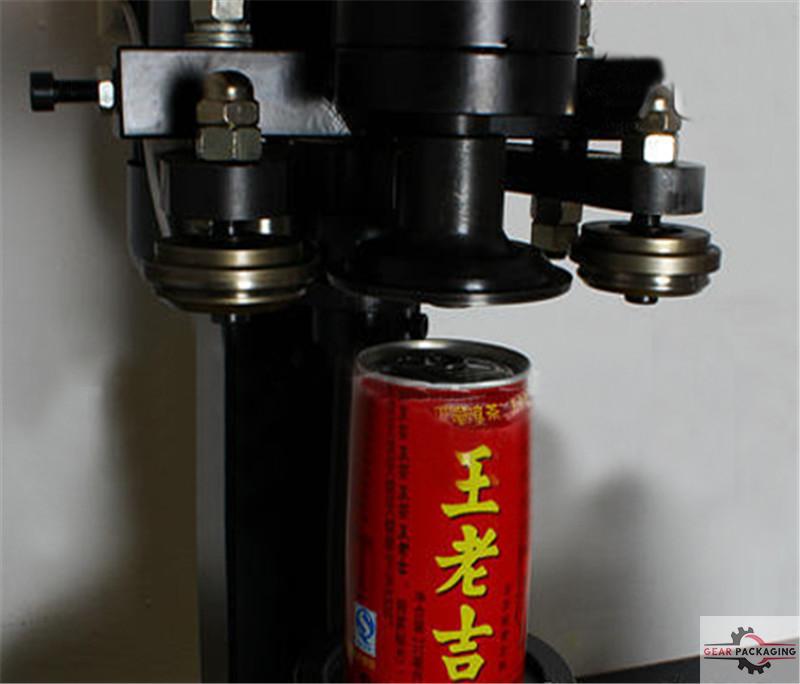 Tabeltop cans sealing machines
Pedal switch&automtic working function
Main parameter of cans sealing desktop:
Capacity:25cans per min
Applicable height: 39mm-280mm
Cans diameter φ45-φ190mm
Power:370w
Machine size:L620×W260×H880
Packign size:800×350×1000mm
Net weight:70Kg Gross Weight:84KG
How to adjust the cans punch and roller for the sealing machine step by step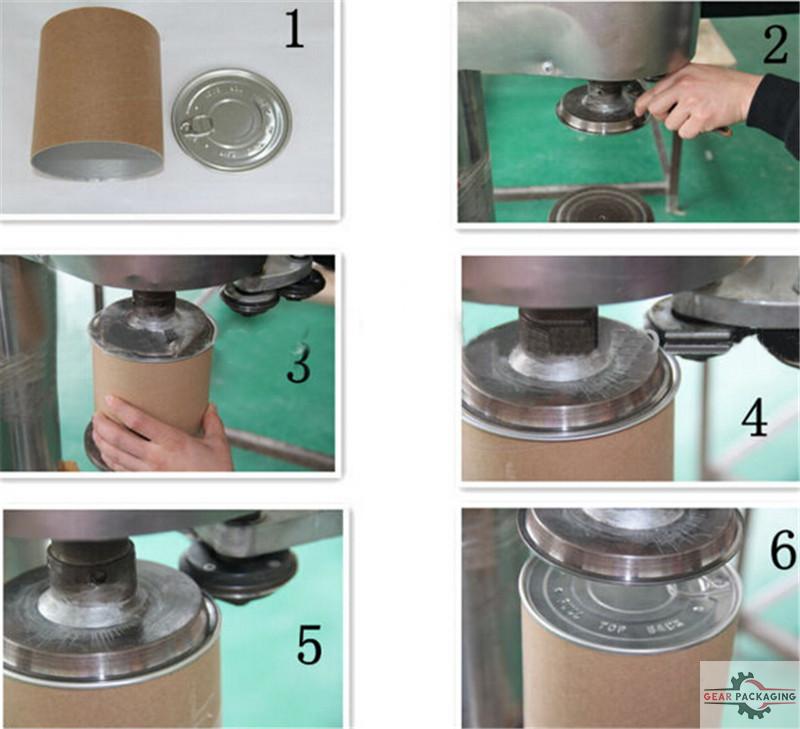 Operation video:
Picture1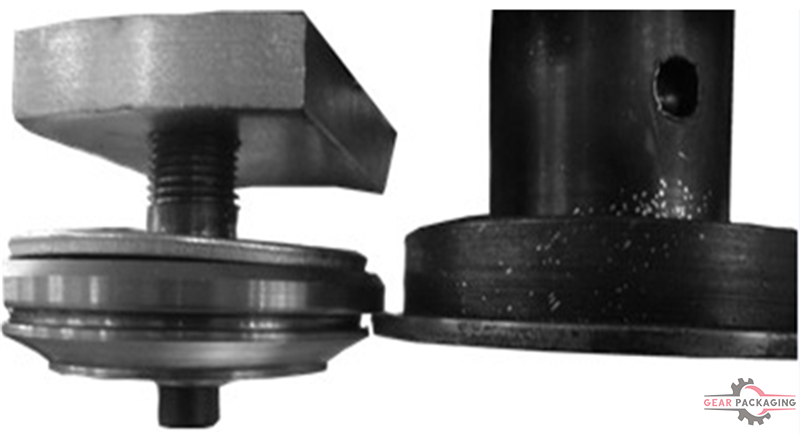 ►In the picture 1 The left part is the first cutter from the roller .the
cutter groove in the first cutter which has the Cusp Slot is deeper than
the second cutter. In the picture it can be as a reference for the
distance between first cutter and the punch head.
Picture 2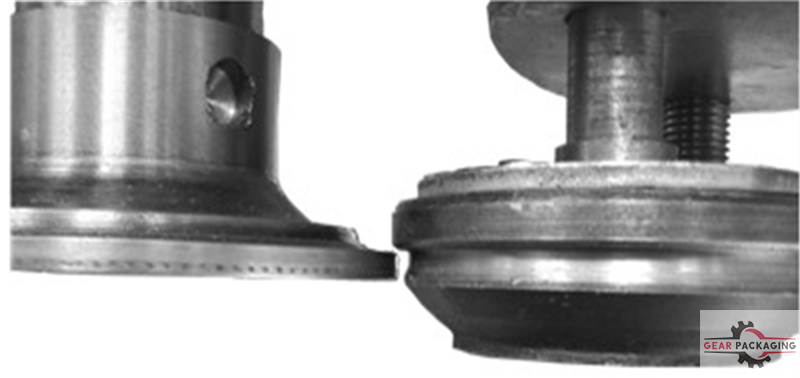 ►The right part in the picture 2 is the second cutter. There is no
the Cusp slot and the cutter groove is a little smooth .The function
of second cutter holds blank. The picture as a reference for the
distance between the second cutter and the punch head .
Picture 3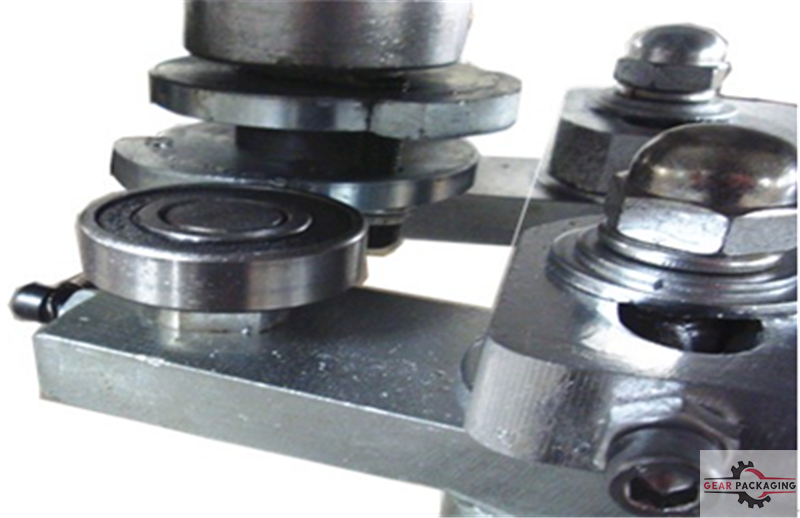 The small bear from cutter arm rotates together with the Camshaft .The left roller corresponds
with the lower Cam; the right roller with the upper cam .The roller will start to roll-seal
by means of lever principle when the lower small bearing touch the small cam. Theoretically
the cans should lift to the position just to line with the punch .At the same time the position
is the optimal value to adjust the height of shaft .(this is the key point and tip)
Picture 4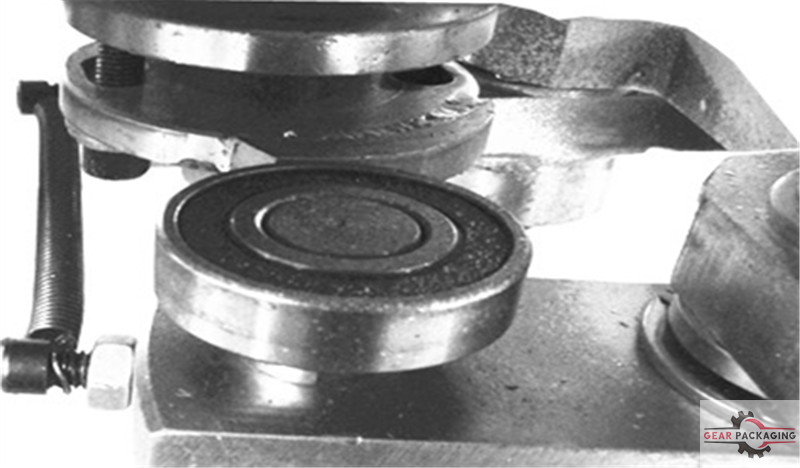 By means of Lever principle when the small bearing corresponds with the small cam and hits the
highest point, the nearest distance from the roller to punch, which is the key time to adjust the
distance between the roller and punch (The important step)
Cans samples for sealing machine desktop model GP-A16: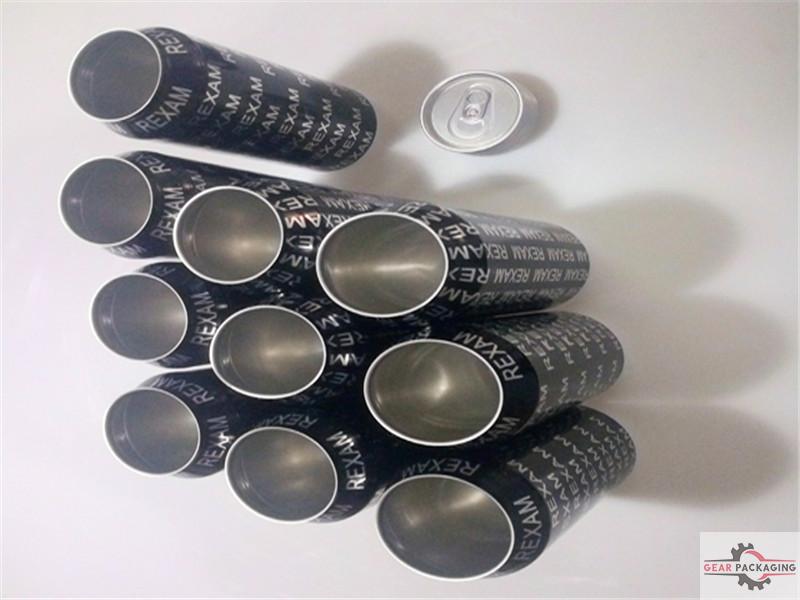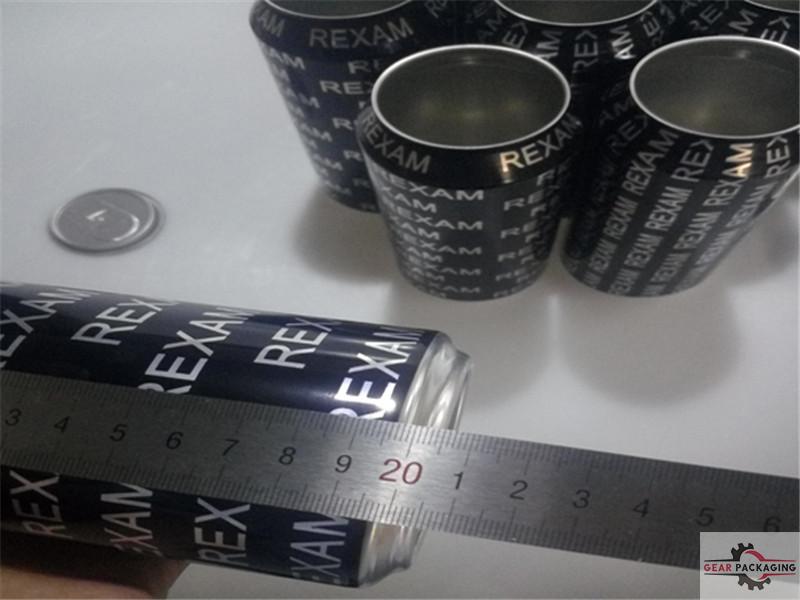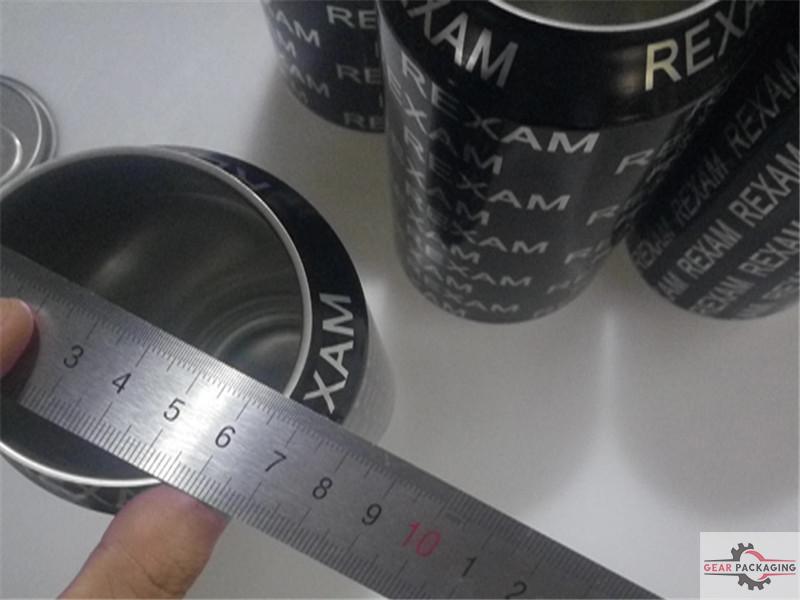 Final sample from Machine testing run of model GP-A16 cans sealer equipment: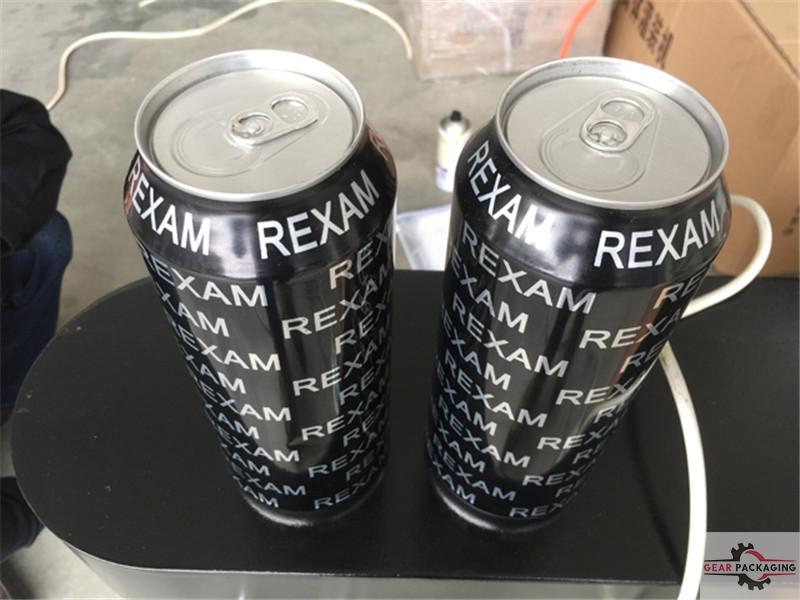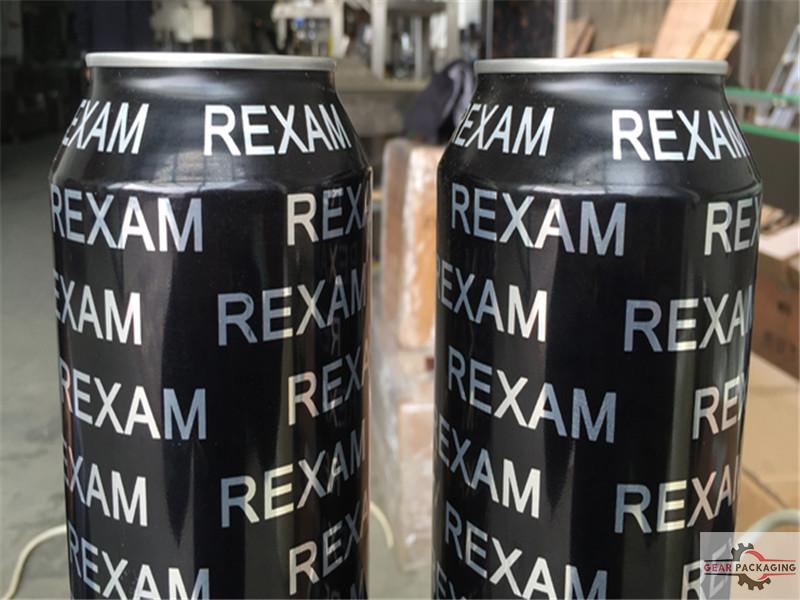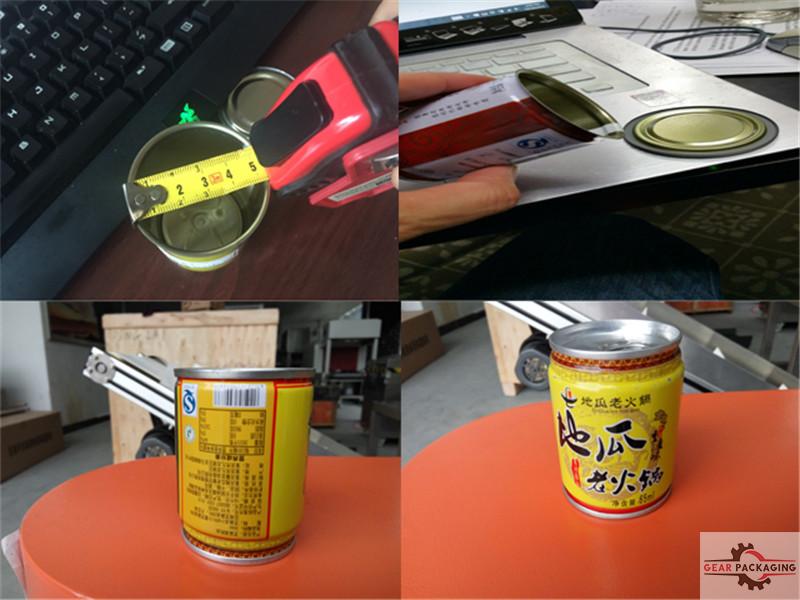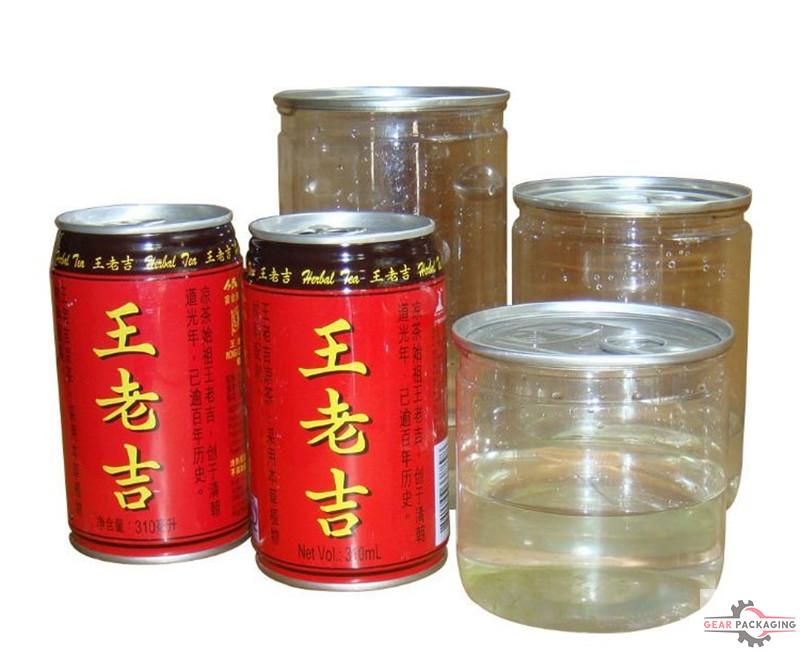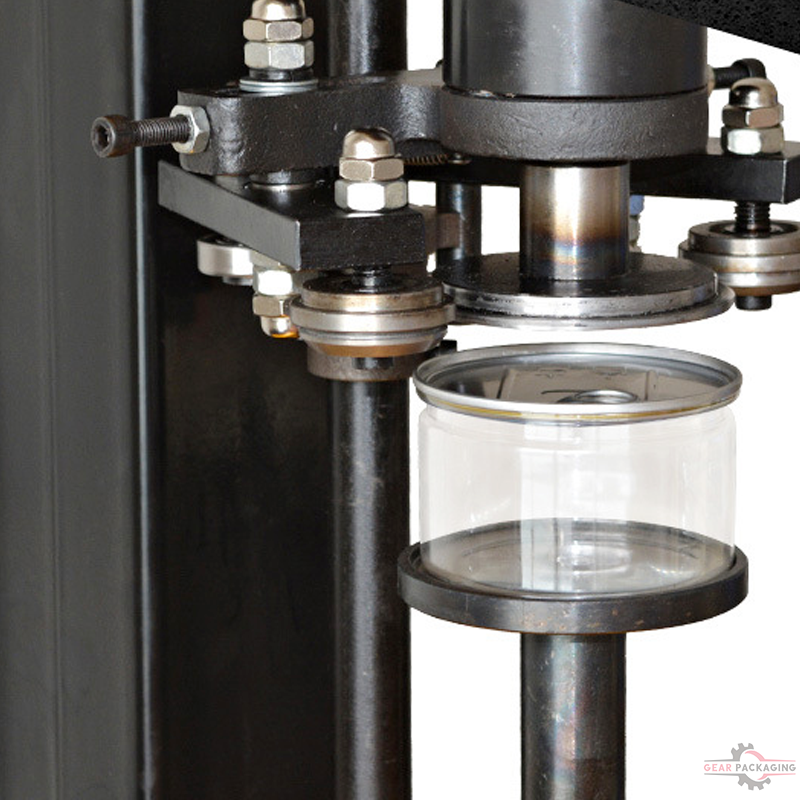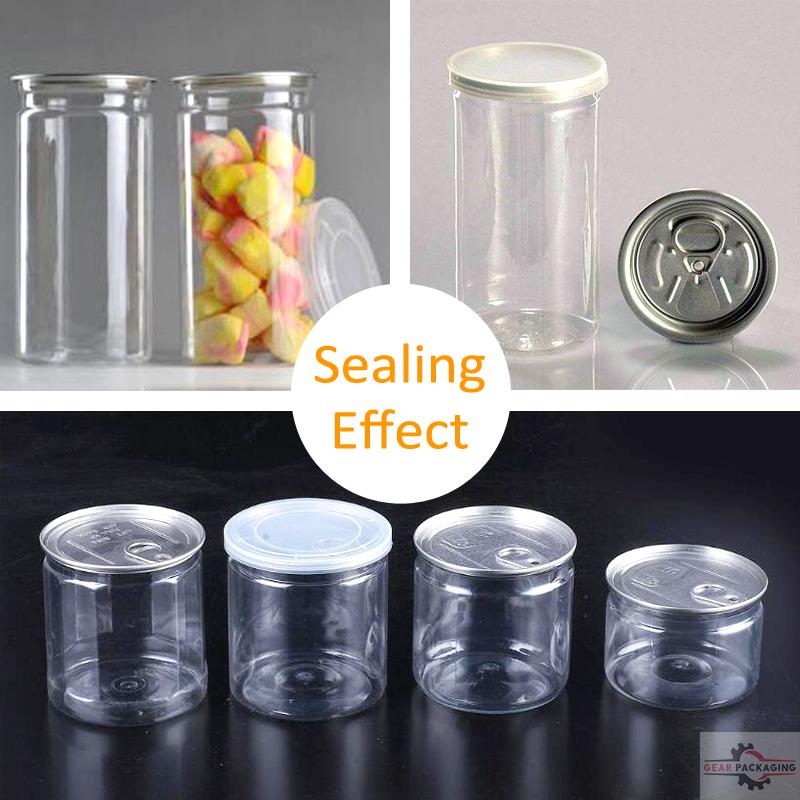 Cans sealing machine packaged in wooden crate for DHL door to door shipping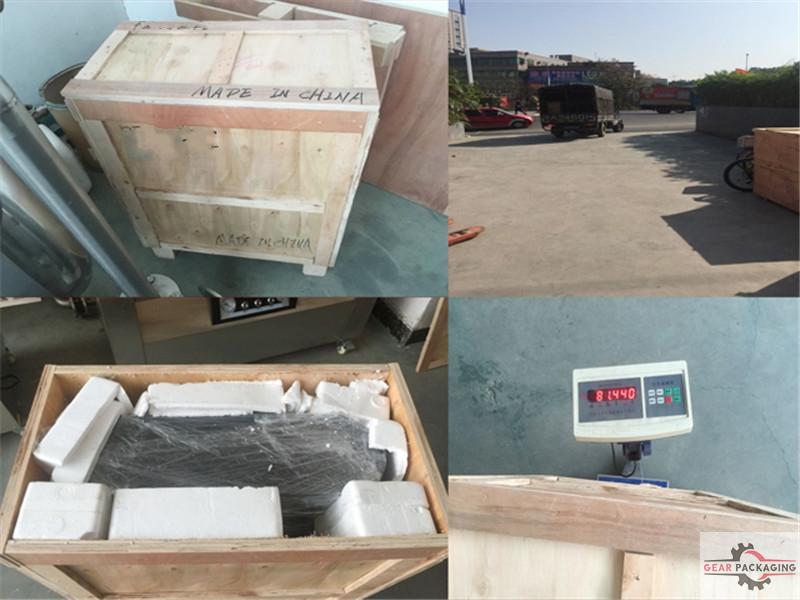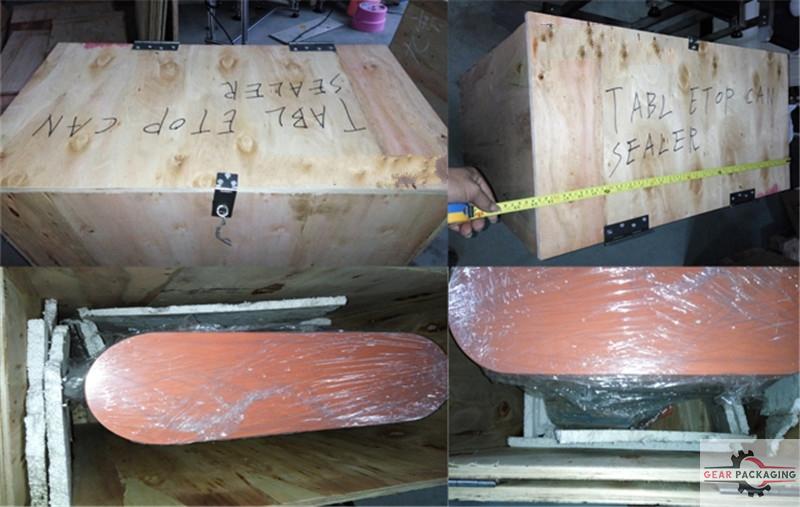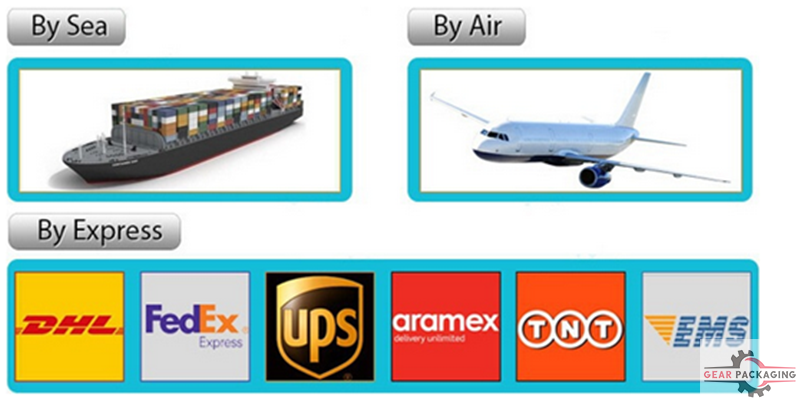 PET hard plastic jar seaming machine running video:
Automatic Nitrogen flush can seamer tin filling & Vacuum sealing machine for food nuts powder
Milk powder filling sealing line: