Description:
The double side automatic labeling machine applieds labels to the sides of products such as ovals and rectangular products.With the addition of options it is also possible to use a front and back labeling machine for 2, 3, and 4 panel wrap applications (at a sacrifice of speed capabilities).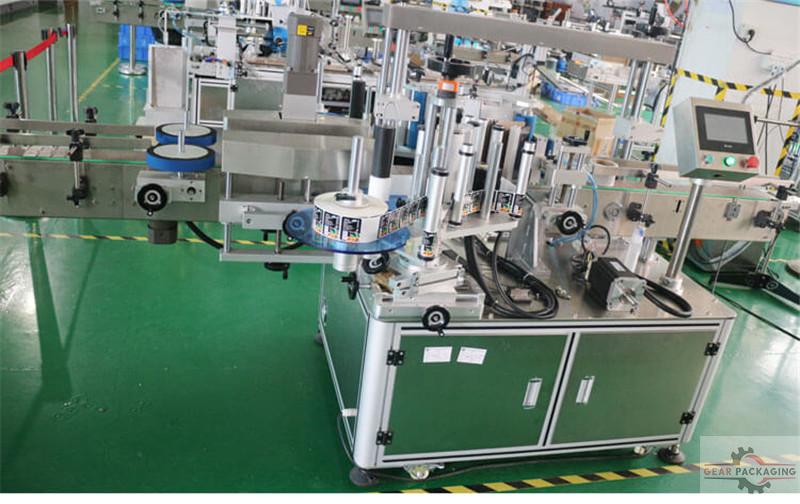 It is also important to consider whether an alignment system is required to square up the product. All ovals will require an alignment system as well as any irregular product. This can be accomplished in many different ways for different speed requirements. In most cases our standard aligners will do an excellent job, but there are products that may require feed screws or walking beam aligners. When you are purchasing a front and back labeling machine it is very important to submit samples so that we can review any special handling.
Technical Parameter
Model GP-FBL02
Supply power (V/Hz) AC 220/50 110/60
Power (W) 1500
Labeling precision (mm) ±1.0
Labeling size (mm) Height 15-100mm Length 20~300mm
Bottle size (mm) Outer Diameter 12-100mm Height 30-200mm
Capacity (b/m) 40-120
Dimension(L×W×H)(mm) 2200×1400×1550
N.W(kg) 320
Machine detail pictures:
The pressure between the active axle and press roller can be adjusted , so the running direction of the lanel can be adjusted freely,The label is only pressed flexibly without causing any distortion .
The labeling head adopts the structure of the double press rollersl,it guatantees that the label is pulled tightly but not broken because of the underneath paper die-cutting , the sepatated clutch makes the strain more balanced.The touch screen based human interface in chinese and English with one online helping system makes it easy for operate the machine. The press belt is feared into the main transporting line , so it makes the two transporting lines work in synchronous absolutely.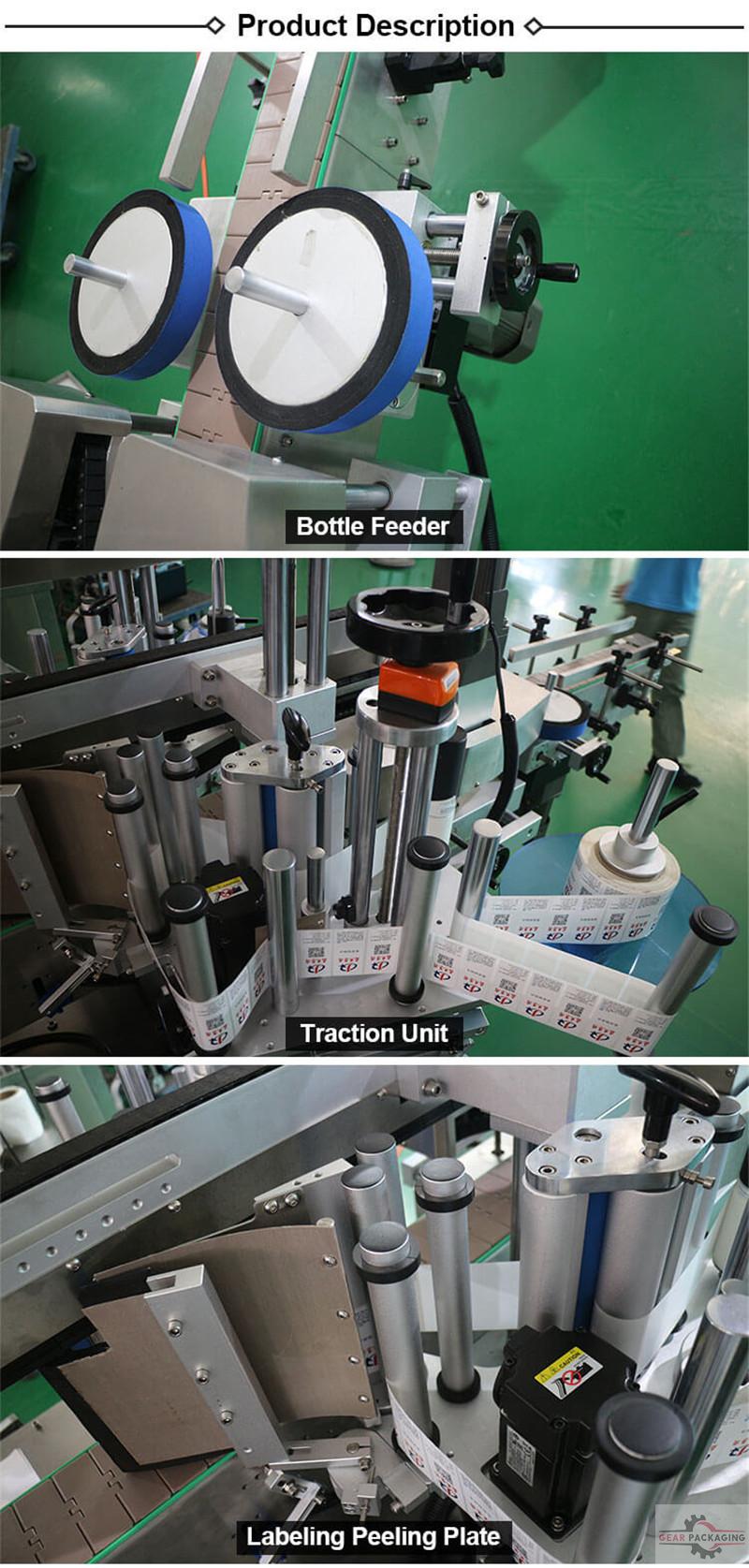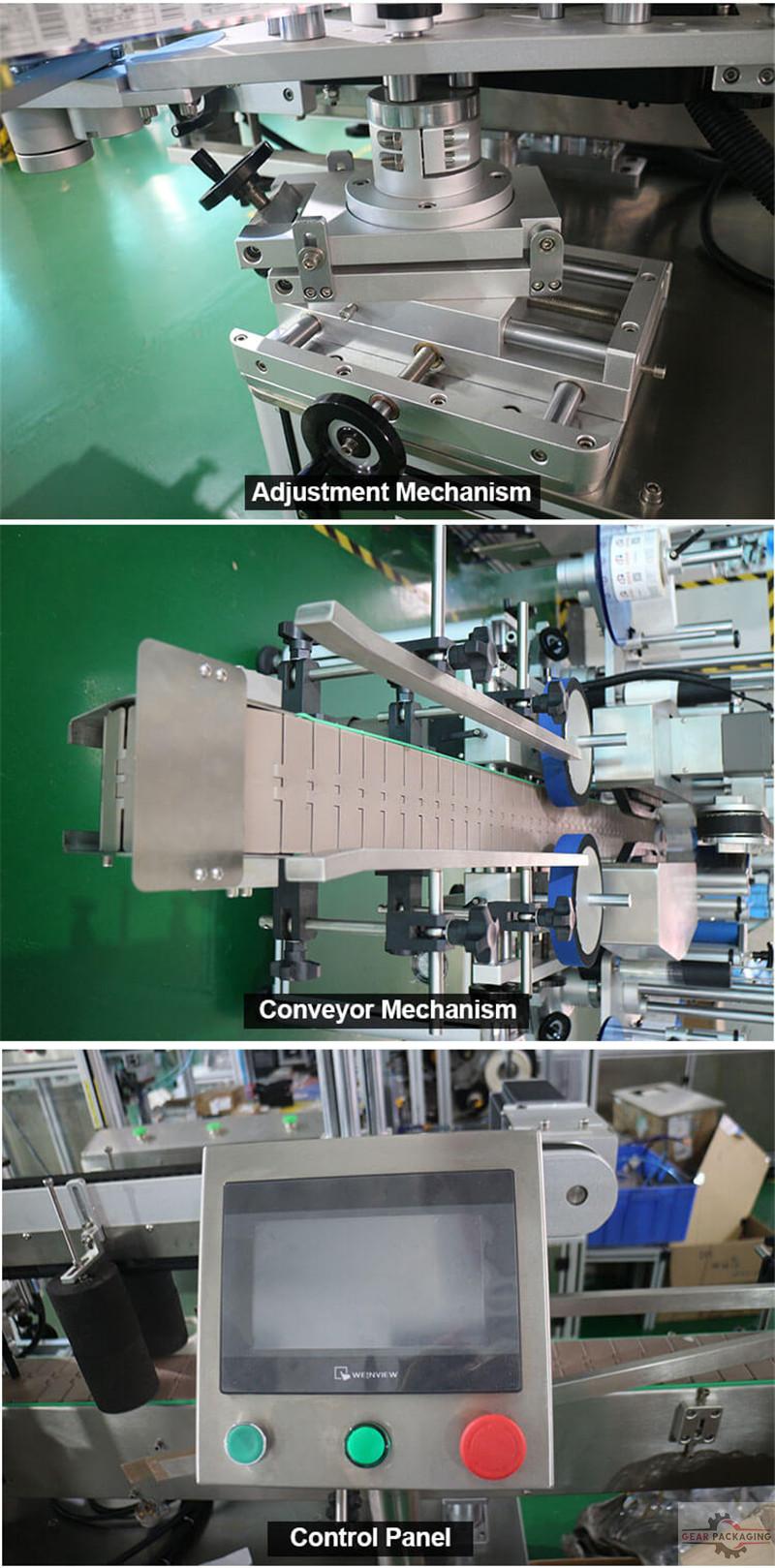 The automatic labeling machine is supplied with the famous sever motor ,so it realizes real closed loop controlling and it avoids the phenomenon of "the blind man walk" when supplied with the stepper motor.The multi channel encoder detects labeling position precisely at high speed.he label is pressed by a flap after appying on bottle and pressed by the active and passive sponge rollers.so when the label is stuck it has not any bladder.It is especially applicable to the crystal bottles labled with transparent labels.The optional air driving and roller labeling set can label round bottles precisely.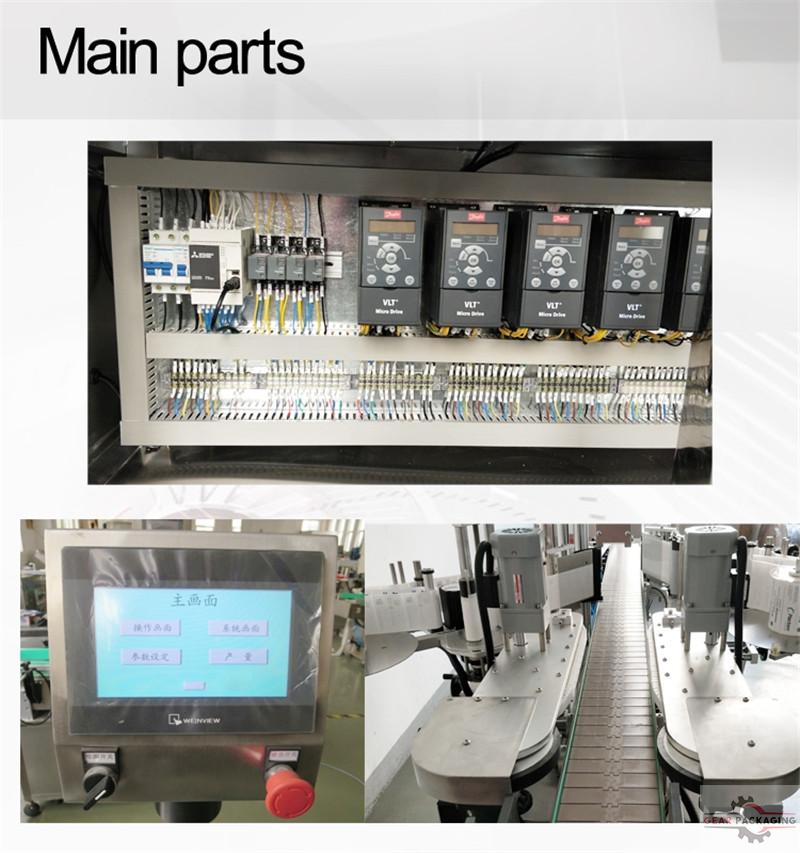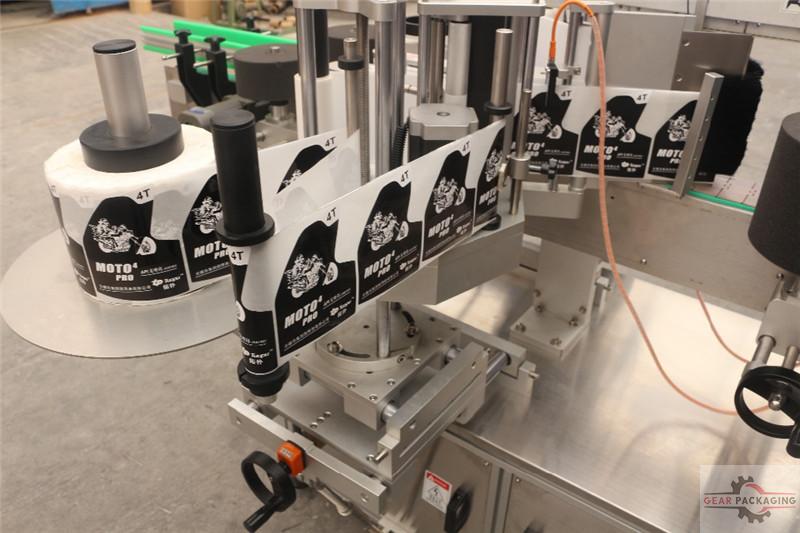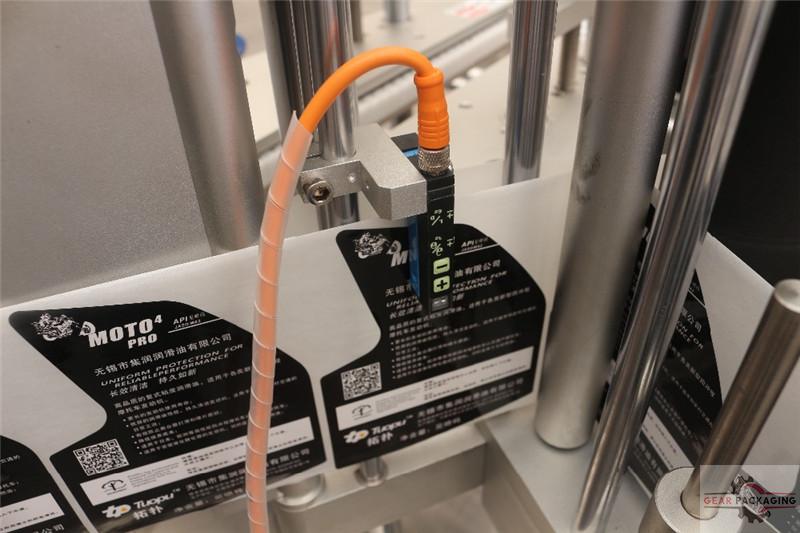 The Scope of Application:
The model GP-FBL02 Labeling machine suit for different kinds products that need labeling on front and back sides . Labeing engine use German Avery brand, also can suit for round bottle labeling wrap around.
Following bottle sampels for reference: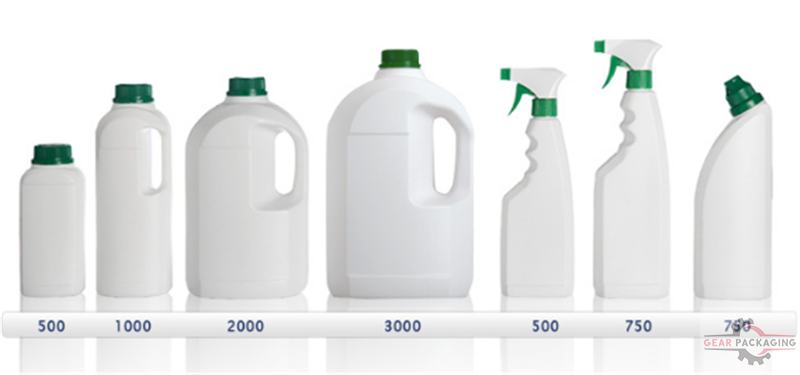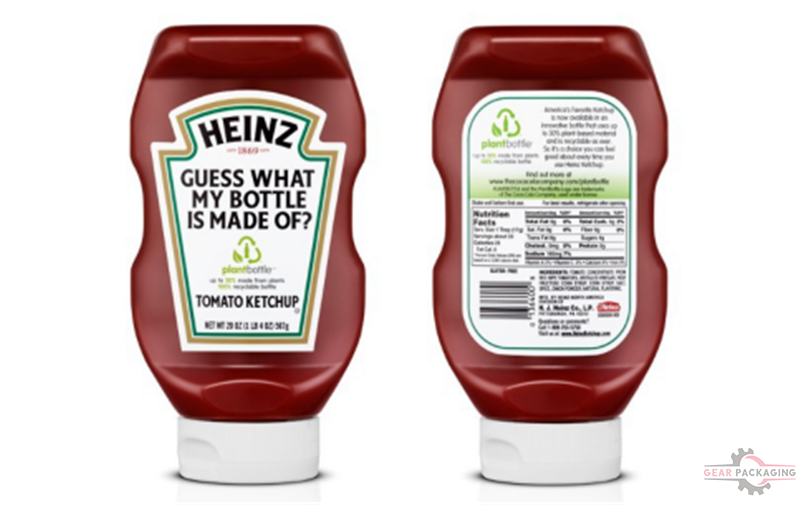 Characteristics of Function
Powerful function: single-sided and double-sided labeling for four shapes of bottles (round bottles, flat bottles,square bottles and special-shaped bottle) can be supported;
The bilateral rigid plastic synchronous guiding chains ensure automatic centering of bottle labeling. It lowersrequirements of bottle placement and transition of bottles between production lines, and significantly reduces
the difficulty in workers' operation and bottle transition between production lines, so both single-device labeling and production-line-based labeling are possible;
Spring-type coping mechanism ensures smooth delivery of products, and height discrepancy of bottles can be eliminated effectively;Automatic bottle separator automatically space bottles to ensure stability of later guiding, delivering, and labeling bottles;
With double label covering mechanism: the first labeling ensures positioning accuracy, and the second involves extrusion label covering;effectively eliminating air bubbles and ensuring two ends of labels are stuck tightly;
Intelligent control : Automatic photoelectric tracking that avoids idle labeling while correcting and detecting labels automatically,so as to prevent mislabeling and label waste;
Sturdy and durable It is made of stainless steel and premium aluminum, meeting the GMP production requirements. It looks great.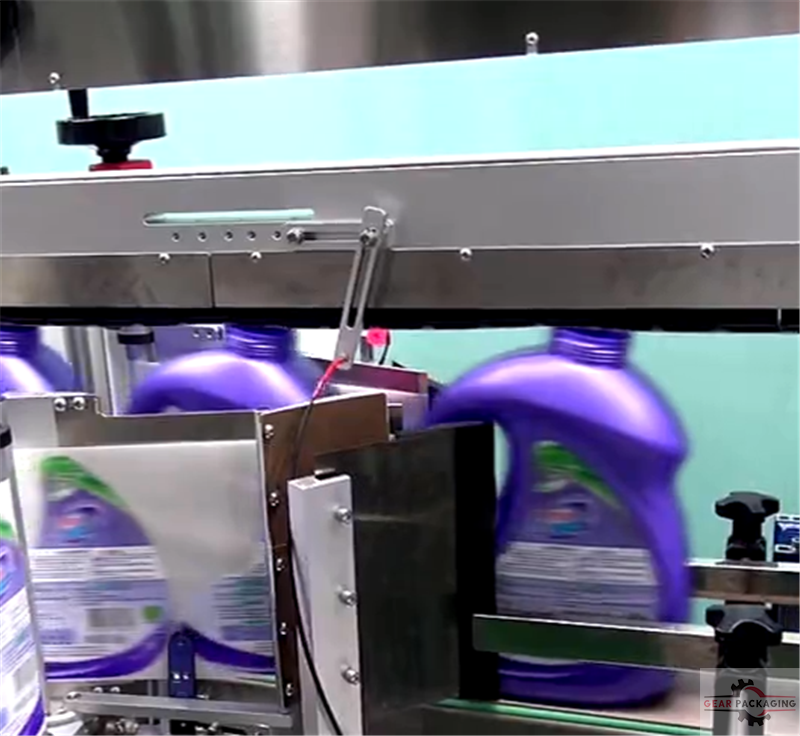 Shipping packaing wooden case via ocean